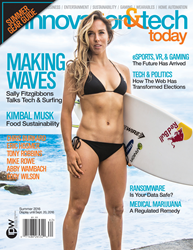 "Sports and adventure tech, sustainability, VR, eSports, gaming, STEM and cyber security; what's not to love?" asked Editor-in-Chief Charles Warner.
Salt Lake City, UT (PRWEB) August 04, 2016
Innovation & Tech Today, featuring professional surfer Sally Fitzgibbons on the cover of its Summer issue, is onsite at the 2016 Outdoor Retailer Show and being made available to all the attendees of the iconic annual event. To celebrate, sponsors of the publication have donated big ticket items (including an electric bike, a telescope and fitness wearables) to be given away around the Outdoor Retailer Show and the summer issue.
This issue also debuts Outdoor and Adventure Tech Editor Billy Brown and his Trek Tech team offering their expertise. This issue contains interviews with outdoor and adventure leaders making major strides in innovation, along with top notch product reviews of must-have products and gear.
"Sports and adventure tech, sustainability, VR, eSports, gaming, STEM and cyber security; what's not to love?" asked Editor-in-Chief Charles Warner. "We are celebrating our best outdoor and adventure tech section at the biggest outdoor show in the world. To celebrate, we want to offer our tech savvy audience a chance to win some really cool products from our partners. It is very easy to enter. Really, everyone wins because right now we are offering a free digital subscription to everyone or three years of print delivery for only ten bucks, the cost of one issue at the newsstand. It's a no brainer for sure."
I&T Today is committed to inspiring and informing it's readers about technological innovations world wide, and those driving innovation across a wide spectrum of industries. Additionally, this magazine features specific sections like Sustainability Today, Energy, Transportation, STEM Today, Outdoor Adventure Tech, Security, Medical Tech, and Gaming & Entertainment.
Other highlights of the Summer 2016 issue include:
X. Kimbal Musk on the marriage of food and sustainability.
X. An exclusive interview with motivational speaker Tony Robbins on his new Netflix documentary.
X. Cody Wilson, "the most dangerous man on the internet" talks 3D-printed guns.
X. Chris Voss on how Snapchat has matured and exploded over the past four years.
X. Peter Gietl covers politics and the age of power players in internet journalism.
X. Liam Kivirist on how eSports gaming is going to be the next major sports league.
X. John Malanca explains how medical marijuana is the next billion dollar industry.
X. Dr. Kupper Wintergerst discusses the future of diabetes technology and how to combat today's single most complex health issue.
X. Conference wrap-ups of the Spring '16 Luxury Tech Show and Dent 2016.
X. An inside look at the 2016 USA Science & Engineering Festival.
X. Podcast all-stars Mike Rowe and Dan Carlin.
X. Instagram sensation Chris Burkard and prestigious long distance runner Rob Krar.
X. Abby Wambach and Eric Hosmer on sports gaming.
X. Vladimir Kush and the relationship of art and technology.
X. Comedian Noah Gardenswartz on smartphone brain games.
Innovation & Tech Today is on sale at every Barnes & Noble and Micro Center and select newsstands right now. It is available across the United States and Canada, as well as commercial centers throughout the world. It is also distributed digitally on all e-readers, and through Zinio, iTunes and Magzter or directly with the publisher, Innovative Properties Worldwide. Advertising and media partners are now being accepted for 2016 and 2017. Besides Outdoor Retailer Show, I&T Today is available to everyone at CES, CEDIA, LA Auto Show, USA Science & Engineering Festival, SXSW Eco, Greenbuild Conference and EXPO and The Luxury Tech Show. For more information, contact Charles Warner at (720) 708-4250