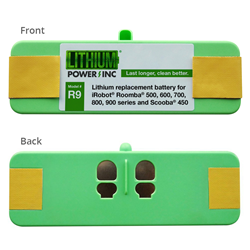 It is big news that iRobot has switched from Ni-MH to lithium-ion batteries. It justifies what we at Lithium Power have been saying for a few years now. Lithium-ion batteries are a better deal for the consumer. They are twice the price, but perform better
(PRWEB) August 05, 2016
In a significant move in the home appliance industry, vacuum manufacturer iRobot has designed its newest upgrade, the 980 vacuum, to run exclusively on a lithium-ion battery. Unlike their past vacuum robots, the 980 will not run on the older nickel metal hydride (Ni-MH) battery technology.
"It is big news that iRobot has switched from Ni-MH to lithium-ion OEM batteries. It justifies what we have been saying for a few years now," said Chan. "Lithium-ion batteries are a better deal for the consumer. They are twice the price, but perform better and last four times as long."
Lithium Power has designed its new R9 replacement battery to capitalize on this higher consumer value, helping consumers get the most power and longest run times out of their Roomba 980.
Why introduce the Lithium Power R9 replacement battery?
The Roomba 980 has been on the market since last September, and iRobot is not selling its own replacement batteries for it, so the introduction of the R9 fills a gap in the battery market.
Lithium Power has been testing its R9 as a replacement for six months, and is now ready to sell it to consumers with confidence.
"Roomba has been selling their new 980 model vacuum for nine months," said Chan. "The people who own the 980 will need to replace the battery that comes with the vacuum right about now. So the timing is right."
Chan also noted that Lithium Power designed the R9 to work in older Roomba 500-800 series vacuums as well, to make life simpler for vacuum owners.
Why is iRobot joining the movement away from Ni-MH toward lithium-ion?
Battery life is properly measured in charging cycles, and a lithium-ion battery can be recharged about four times more often than a Ni-MH battery (800 cycle lives vs. 200 cycles.) The Ni-MH replacement battery needs to be one-fourth the cost of a lithium-ion battery before it makes sense. Total cost of ownership ("TCO") favors the lithium replacement battery.
Battery life is also measured in months of use in an average household. Lithium-ion batteries like the R9 will last about two years with average use. Ni-MH batteries usually last only six months, a real consumer inconvenience.
For appliances like vacuums, the power rating is important, too. How powerful is the battery? Will the vacuum perform properly? So, consumers should look for the power rating for the battery. Lithium Power's new R9 has a higher capacity of 4400 mAh compared to 3300 mAh for the battery that comes with the 980 vacuum. So the Roomba 980 with an R9 battery will clean better than with the original battery.
Can the battery last for an entire cleaning session? Battery runtime between recharges is important: Cheap batteries force the consumer to recharge the battery before the house is fully vacuumed. A lithium-ion battery pack will typically last twice as long on one charge, a big consumer benefit.
Consumers who need to buy replacement batteries for home appliances should remember that a lithium-ion battery that is twice the price of Ni-MH or Ni-Cd replacement batteries is actually 50% less expensive because of its much longer lifespan.
"The price is not the best factor in choosing a replacement battery," says Wilson Chan, CEO of Lithium Power, Inc. "A battery might be half the price of another, but only lasts six months compared to two years for the higher-priced battery. That is not a good deal for the consumer."
About the R9 Roomba 980 Replacement Battery
The R9 is Lithium Power's newest, highest performing home appliance replacement battery. The features that make it a real consumer value are:

Safe and Reliable – Cell selection certificates from UL and CE
Battery Management System: Built-in over-charge, over-discharge, over-voltage, over-current, and over-temperature protection circuits – A mini-management system that protects the consumer from damaging the battery unintentionally
Compatible with all Roomba series vacuums (500, 600, 700, 800, 980 Series and Scooba 450)
Works with the Roomba's battery charger
56% longer operating time per charge than Ni-MH batteries
Still at 80% capacity after 800 charge cycles vs. 200 cycles of the Ni-MH battery
No memory effect + Low rate of self-discharge (only loses 1% of charge per month between Roomba 980 vacuum uses)
Patented hard case to prevent damages from shock and vibrations
One-year standard warranty, two-year optional warranty
About Lithium Power, Inc.
Lithium Power, Inc. has been specializing in lithium battery technology since 2004. The company provides reliable, long-lasting off-the-shelf lithium replacement batteries for consumer products like all the iRobot Roomba®, Scooba® 300/450 series, Neato® XV series consumer vacuums, as well as scalable lithium battery modules for home-based solar-powered products. It also offers custom-made battery packs as turnkey solutions for OEM/ODM customers for medical, UAV, AGV, LED light tower, solar-powered street light and surveillance cameras, and other energy storage and industrial applications. Lithium Power, Inc. offers innovative breakthrough technology and ideas tailored to each of its specific application markets. For more information, call (408) 837-0206 or visit us at http://www.lithiumpower.com.