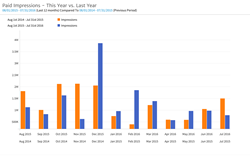 Marketers can now create reports on their Facebook ad campaigns without the grunt work of data exports and spreadsheets.
New York, NY (PRWEB) August 04, 2016
Megalytic, a SaaS tool used by thousands of companies to create and publish marketing reports, announces today an integration with Facebook Ads. The integration moves Megalytic another step closer to becoming a one-stop shop for creating digital marketing reports.
Megalytic users can now connect with their Facebook Ads accounts and automatically create detailed marketing reports. Reports, based on Facebook Ads performance, can be created in a fraction of the time that it takes to build them manually. Additionally, Megalytic supplies a library of Facebook-specific widgets that can be customized to meet the needs of each individual marketing report.
For example, the "Ads Campaigns" widget can present advertising performance metrics at the campaign, ad set, or individual ad level. At any of these levels, users may create charts and tables that highlight important advertising performance measures such as Impressions, Reach, Frequency, Spend, CPM, Clicks, CTR, CPC, etc.
"We are easing the burden of manual labor required for digital marketing reports," said Mark Hansen, CEO of Megalytic. "Marketers can now create reports on their Facebook ad campaigns without the grunt work of data exports and spreadsheets. This is another step toward our goal of providing digital marketers a single tool that generates all of the reports that their clients and colleagues demand."
Digital marketing continues to become more and more data driven. Against this backdrop, Megalytic has gained a loyal customer base by offering powerful and highly customizable reporting. The startup will continue adding new visualizations and integrations with more marketing data sources, in order to fully automate the custom-report creation process.
For those interested in learning more, Megalytic offers a free 14-day trial and multiple payment plans to fit various needs and budgets.
About Megalytic
Founded in 2011 by its president, Mark Hansen, Megalytic's analytics reporting software helps thousands of digital marketing professionals throughout the world create engaging reports that deliver the right data, to the right people for more informed decision-making. Its highly customizable features allow users to build professional reports for a variety of audiences. To learn more, visit http://www.Megalytic.com or check out its blog covering an assortment of analytics topics.
Media Contact:
Mark Hansen
mark(at)megalytic(dot)com
212-961-7250