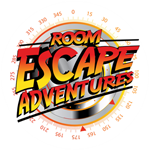 Plain City, OH (PRWEB) August 04, 2016
Room Escape Adventures (http://roomescapeadventures.com) is making it easy for their game players to share their experience – and to come back again for more!
"We are running a Facebook promotion," says company founder Marty Lee Parker, "and we are making it easy for everyone to get involved. We post a team photo on our Facebook page after every show, so after you enjoy your challenge, go to our Facebook page and like the photo that you are in. Then tag five of your friends and share the photo on your timeline. If you do that, you'll get a free ticket for another show."
The promotion has worked very well for the participants that are eager to return and bring even more friends to enjoy the team challenge of Trapped in a Room with a Zombie.
To learn more about the room escape game, visit roomescapeadventures.com/about, and to see photos of other players on Facebook, visit: https://www.facebook.com/roomescapeadventures.
About Room Escape Adventures: Room Escape Adventures takes participants out of their busy, tech-filled lives and into a situation where they have to rely on their wits and each other in order to beat the game. Rather than watching the action on TV, you are in the action as you plot, plan and hopefully outwit the obstacles standing between you and your freedom. As you and your friends, family or coworkers find the clues and put them all together while trying to avoid being eaten by a zombie, you'll discover team building skills and deepen friendships like never before.
Contact Details:
Marty Lee Parker
Bucket List Productions LLC
Plain City, Ohio 43064
Phone: 614-353-3969
Email: info(at)roomescapeadventures(dot)com
Source: Bucket List Productions LLC
###