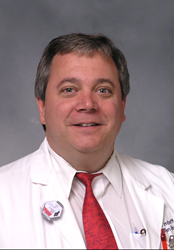 "The same process that eliminates cancer cells has proven to be equally effective at inhibiting the growth of cells that cause blood vessels to narrow." Mark Trombetta, MD, Allegheny Health Network Cancer Institute
PITTSBURGH, Pa. (PRWEB) August 05, 2016
Allegheny General Hospital (AGH), part of the Allegheny Health Network, is now one of very few leading medical centers nationwide, and the only hospital in the Pittsburgh region, offering an advanced therapy typically used for in cancer treatment to help patients experiencing a re-narrowing of the arteries following the placement of a drug coated cardiac stent.
Called Intra-coronary Vascular Brachytherapy (IVBT), the treatment works by delivering a small, precise dose of radiation directly to the area where the artery has re-narrowed, eliminating or greatly reducing the growth of cells that are the major cause of restenosis.
Every year doctors use balloons and stents to open the blocked arteries of about 1 million Americans. For patients experiencing a heart attack, angioplasty and stenting can save lives. Unfortunately, about 10 to 20 percent of patients experience restenosis, or a re-narrowing of the arteries, and need to undergo additional procedures to open the blood vessels.
The advent of drug-eluting stents a few years ago reduced the incidence of restenosis by a considerable margin, but a significant number of patients still develop the condition.
"Intracoronary brachytherapy gives us an effective option for our patients who have experienced repeated restenosis after angioplasty and stent placement," said David Lasorda, DO, Director, Interventional Cardiology at AGH. "This is a very exciting advancement for our institution and patients who suffer from this very common condition."
Cardiologists and radiation oncologists work together to perform cardiovascular brachytherapy, ensuring that the correct radiation dose is delivered precisely to the affected area of the blood vessel. Once a blockage is reopened, a low dose of radiation is directed to the site via a specially designed, x-ray guided heart catheter. When the treatment is complete, the catheter is removed, leaving no radiation behind in the body. Most patients are able to return home the day following the procedure.
"For years we have been a national leader in treating cancer patients with brachytherapy, placing radiation directly in or near malignant tumors to help eradicate them," said Mark Trombetta, MD, System Director of Clinical Program Development, Allegheny Health Network Cancer Institute."The same process that eliminates cancer cells has proven to be equally effective at inhibiting the growth of cells that lead to scar tissue and plaque that causes blood vessels to narrow."
Dr. Lasorda said studies have demonstrated a significant 50% reduction in restenosis following the use of brachytherapy.
"We take a highly personalized approach to determining which patients with re-stenosis will most likely benefit from brachytherapy," Dr. Lasorda said. "This therapy is typically recommended for those who have experienced restenosis several times; however other indications may include the size and extent of the blockage and the patient's total number of implanted stents. Research has shown that brachytherapy can be an important treatment option for patients with multiple stents who may not be eligible for additional invasive care if needed."
Stents, which are small mesh tubes that restore the flow of blood through blocked arteries, have been used for about 20 years. Drug-eluting stents, which release medication designed to prevent blockages into the artery, were introduced about 10 years ago and have also reduced the risk of re-stenosis.
"Intracoronary vascular brachytherapy is another example of AGH's long tradition of offering cutting-edge therapies in the treatment of coronary disease. Doctors at AGH helped develop the use of balloon angioplasty, coronary stents and medications that have become standards of care worldwide," said Srinivas Murali, MD, Director of Allegheny Health Network's Cardiovascular Institute.
The Allegheny General Hospital Auxiliary was instrumental in supporting the development of AGH's cardiovascular brachytherapy program.
About the Allegheny Health Network:
Allegheny Health Network (AHN.ORG), part of Highmark Health, is an integrated healthcare delivery system serving the Western Pennsylvania region. The Network is comprised of eight hospitals, including its flagship academic medical center Allegheny General Hospital, Allegheny Valley Hospital, Canonsburg Hospital, Forbes Hospital, Jefferson Hospital, Saint Vincent Hospital, Westfield Memorial Hospital and West Penn Hospital; an employed physician organization, a research institute, health + wellness pavilions, home and community-based health services and a group purchasing organization. The Network employs approximately 17,500 people, and has more than 2,100 physicians on its medical staff. The Network also serves as a clinical campus for Temple University School of Medicine, Drexel University College of Medicine and the Lake Erie College of Osteopathic Medicine.
About the AGH Cardiovascular Institute
Allegheny General Hospital, the quaternary flagship of Allegheny Health Network's Cardiovascular Institute, offers comprehensive, state-of-the-art care for the complete spectrum of cardiovascular disease. The hospital's nationally recognized medical staff includes specialists in general and interventional cardiology, electrophysiology, leading-edge diagnostic cardiology – including cardiovascular MRI, CT and 3-D echocardiography – women's heart care, heart failure and pulmonary hypertension, heart transplantation and mechanical circulatory support, vascular surgery and wound care, thoracic surgery, heart valve disease and coronary artery bypass surgery. AGH is recognized by leading healthcare industry analyst Comparion as western Pennsylvania's top hospital in quality and safety for overall cardiovascular care and complex heart surgery.
AGH's broad scope of advanced capabilities in the treatment of heart failure offers patients access to cutting-edge investigational therapies being explored in clinical trials, such as new medicines and implantable devices designed to more effectively monitor disease progression and treat conditions before they require hospitalization. The hospital was recently the first in western Pennsylvania to use the latest-generation total artificial heart to provide a bridge to transplantation for patients with end-stage heart failure. It also has become one of just a few national referral centers for advanced treatment of pulmonary hypertension. AGH's heart transplant program is lauded by both Comparion and the National Scientific Registry of Transplant Recipients as having the best patient outcomes of any program in the region.