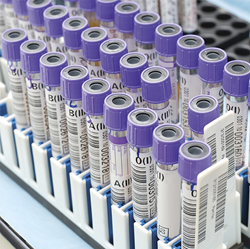 Polyonics manufactures innovative nylon, polyester and polyimide label materials for harsh cryogenic, laboratory and medical device tracking applications.
Westmoreland, NH (PRWEB) August 09, 2016
Polyonics now offers a wider range of label materials designed specifically for laboratory, cryogenic and medical device tracking. The materials include thermal transfer printable (TTP) nylon, polyester (PET) and polyimide as well as UDI compliant laser markable polyimide. They include aggressive acrylic pressure sensitive adhesives (PSA) suited for a wide variety of applications including low surface energy (LSE) plastics, glass and ceramics.
UDI Medical Device Tracking
Polyonics UDI compliant laser markable label (LML) materials are ideal for tracking medical devices exposed to high temperatures, steam and/or harsh chemicals such as in multi-cycle sterilization and/or detergent wash processes. They surpass the durability of thermal transfer printed labels, comply with the UL/IEC 60601-1 and 61010-1 standards and have been field tested for 3000+ sterilization and 500+ wash cycles.
Cryogenic Storage Labels
Polyonics Nylon label materials are designed for use on cryogenic applications involving glass tubes and slides as well as polypropylene (PP) and polyethylene (PE) vials. The materials are rated -196°C (-320°F) in liquid nitrogen.
The label materials includes the following;
XF-300 TTR 127 µm Nylon/50 µm PSA
XF-301 TTR 127 µm Nylon/25 µm PSA
XF-302 TTR 127 µm Nylon/25µm PSA
XF-455 TTR 50 µm PET/25 µm LSE PSA
XF-583 TTR 25 µm PI/25 µm PSA
XF-670 LML 43 µm black polyimide/25µm LSE PSA
XF-671 LML 43 µm white polyimide/25 µm LSE PSA
XF-672 LML 35 µm white polyimide/25 µm LSE PSA
Polyonics at a Glance
Polyonics manufactures innovative, high performance coated films that withstand high temperatures and harsh environments while protecting products from ESD and/or fire. The thermal transfer printable label and tag materials, engineered tapes, laser markable label materials and printable flexible substrates are used by converters and OEMs worldwide.