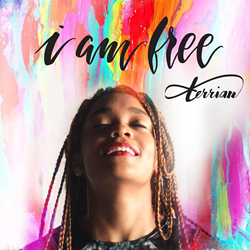 Even in the darkness, nothing can hold us or drag us down.
Memphis, Tenn. (PRWEB) August 08, 2016
Back from the Farewell Season of American Idol®, Terrian has returned to her roots in Memphis and is forging a musical path to inspire others.
Co-written and produced by Grammy® award-winner, Bryan Fowler, Terrian's first single, "I Am Free," is more than just her debut song. It defines her passion for where she's been, where she's going, and why she sings. "I want to spread the Good News beyond borders, to encourage, to loudly proclaim 'I AM FREE!'" says Terrian. "And YOU can be, too!"
"Growing up in North Memphis, I live in a place where gunshots and violence easily dampen the hopes and dreams of many. As a kid, I always had the perspective of somehow making it out of the hood. Just leaving it there and never coming back," Terrian says.
"But one day I realized I was looking at things all wrong. It hit me that the reason God gave me music as an outlet was to rise above the oppression of where I grew up, but not to leave the people there behind. He gave music to me so I can be an instrument of His to inspire others to do the same."
That's what 'I Am Free' is all about," says Terrian. "Even in the darkness, nothing can hold us or drag us down. We can see the light and be free."
Terrian began pursuing her musical passion when she joined Angel Street, an inner-city program for young girls in Memphis that mentors them through music. She now serves as a mentor and vocal coach for the other young girls in the program. Through Angel Street, Terrian has traveled to Germany and recently returned from Spain where she led worship teams.
Terrian is making her debut song available starting 8.8.16 as a free download from her web site, http://www.terrianbass.com.