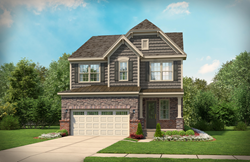 Reston, VA (PRWEB) August 15, 2016
One single family home community, Renaissance at Regency, has just opened for sales this month, and two more, Ethan's Meadow and Woodhall at Yates Pond, are set to open this fall. The communities of Winmore, Yates Mill Estates, Olive Chapel Park, and Ansley, also all single-family home communities, currently have homes for sale. Additional new communities in The Triangle area are being planned for 2017.
Since 2014, Stanley Martin Homes has had a presence in Raleigh, with a total of seven communities. Two of them, Blount Street Commons and Meadow Wood Park, have sold out. Blount Street Commons is an urban community of carriage homes, row homes, and 2-story condominiums located in historic Downtown Raleigh; Meadow Wood Park is comprised of 3-story, townhome-style condominiums situated just outside of Downtown Raleigh.
About Stanley Martin Homes: Headquartered in Reston, Virginia, Stanley Martin Companies is one of the largest privately-owned homebuilders in the Mid-Atlantic Region. Founded in 1966, Stanley Martin Homes has delivered over 15,000 homes to families throughout Northern Virginia, Maryland, Charlottesville, Richmond, and Raleigh.
For more information about Stanley Martin Homes and to read about their 50th Anniversary Savings, please visit http://www.StanleyMartin.com and follow them on Facebook, Twitter, Instagram, and YouTube.