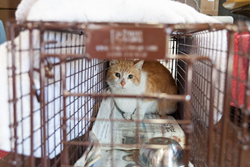 We believe that more small colonies and fewer instances of large numbers of kittens indicates an overall reduction in the number of feral cats.
Mount Rainier, MD (PRWEB) August 05, 2016
The tradition of mass killing feral cats through catch-and-kill, is being replaced by Trap-Neuter-Return (TNR), a model where cats are trapped, sterilized, and returned to managed colonies. As evident in the Alley Cat Rescue (ACR) 2016 Feral Cat Survey, more animal control agencies and local governments are supporting TNR efforts for controlling outdoor cat populations, while rescue organizations are improving the lives of feral cats by providing sterilization services and vaccinations.
Over 200 feral cat organizations participated in the survey, which is a follow up to Alley Cat Rescue's 2012 Feral Cat Survey. In 2016, 77% of rescue groups reported that their local animal control agency approves of TNR for feral cats; that's a 40% increase from the number of groups that said animal control approves of TNR as reported in 2012. In comparing the two surveys, there's also a 16% increase in the number of rescue groups reporting their working relationship with animal control agencies as being "easy" or "intermediate." Similar progress has been made in regards to the relationships between cat organizations and local governments, with a 22% decrease in feral cat rescues finding it "difficult" to work with local policymakers.
"We find these results very encouraging. It takes animal control agencies and local governments working together alongside cat organizations to effectively and humanely manage cat populations," said President of Alley Cat Rescue Louise Holton. "We are seeing more communities embracing the life-saving model of TNR. However, our survey results also reveal that most county-run shelters do not offer TNR services to their communities, so this area needs to be addressed."
Additional significant findings include a decrease in the average size of the colonies organizations are caring for (about 35% of groups were caring for colonies of less than 10 in 2012; now 50% of groups' colonies consist of ten or fewer cats,) which coincides with a decrease in the number of kittens found at colonies before TNR is implemented. There was a 15% drop in the number of groups who found more than 20 kittens at colonies prior to TNR. "We believe that more small colonies and fewer instances of large numbers of kittens indicates an overall reduction in the number of feral cats," said Holton. Rescue groups are also improving the health of feral cats by offering protection against diseases such as rabies, distemper, and leukemia. Ninety-three percent of respondents inoculate feral cats against rabies (compared to 81% in 2012) and only a small portion of cats test positive for either feline leukemia or feline immunodeficiency virus.
Holton added, "The public no longer supports lethal management practices to control cat populations and we're encouraged that more animal control agencies, as well as local governments, are approving of TNR." To review the complete results and summary report of Alley Cat Rescue's 2016 Feral Cat Survey, visit http://www.saveacat.org.
About Alley Cat Rescue: ACR is a nonprofit organization dedicated to the welfare of all cats: domestic, stray, abandoned, and feral. We run a no-kill shelter and advocate TNR programs for feral cats. ACR has been awarded the Independent Charities of America's "Best in America" Seal of Approval, and our newsletter has won several awards from the Cat Writers' Association. For more information, please visit http://www.saveacat.org.