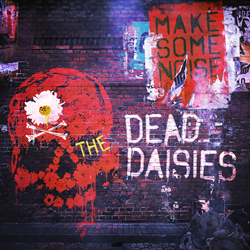 If modern bands have started to feel too safe and too smooth, we've got good news for you: The Dead Daisies are here to rough up the airwaves with Make Some Noise
South River, NJ (PRWEB) August 05, 2016
Watch "Long Way To Go," the first single from Make Some Noise!
If modern bands have started to feel too safe and too smooth, there's got good news for you: The Dead Daisies are here to rough up the airwaves. These five musicians — all of them heavy rock royalty — are true believers in the power of the big riff and the shout-along chorus, and they know how to supply the immediacy, attitude, and pure wattage that's always under-girded the best hard rock music. Make Some Noise, the band's third album, draws its inspiration straight from the greats — Aerosmith, Bad Company, AC/DC, and other classic, go-for-the-throat guitar bands.
Yet the group also plays with the feel-good abandon of the best party rock of the 1980s, and given the resumes of the members of The Dead Daisies, that's no accident. Lead guitarist Doug Aldrich has played with Whitesnake and Dio, and drummer Brian Tichy has hit the skins for Billy Idol, Foreigner, and Ozzy Osbourne. Bassist Marco Mendoza paired with Bill Ward of Black Sabbath on his first solo album and was the anchor of the reunited Thin Lizzy; ferocious singer John Corabi spent time in The Scream and Motley Crue. And then there's rhythm guitarist David Lowy, who's claiming a reputation of his own as a craftsman of punishing, intoxicating, and instantly memorable guitar riffs. "Long Way To Go", the latest single, is built on a brutal — but by no means simple — riff composed by Lowy and amplified, and intensified, by his band-mates. This is a song about urgency ("long way to go/and no time to get there" growls Corabi on the chorus) and The Dead Daisies play it accordingly. But it's also a forthright statement about the condition of the world — badly in need of repair, and our margin of error rapidly disappearing.
Though The Dead Daisies are still a relatively new group (the band was formed in 2012), they've already become famous worldwide for their kinetic stage show. The clip for "Long Way To Go" captures the band in its element: in front of a festival crowd, on a stage big enough to contain their explosiveness. Shot at the Hessentags Arena in Germany during a show supporting the Hollywood Vampires, the "Long Way To Go" video is a demonstration of charisma in action. It's also a glimpse of the band's immediate future. This summer, The Dead Daisies will be starring on the festival circuit in the U.K., rocking crowds in the same sort of venues captured in the clip. After that, it'll be time for the Freedom To Rock tour; a trip through the United States with a like-minded (and legendary) band KISS. After the Freedom To Rock tour with KISS wraps up, they'll be joining them on the high seas as a part of this year's and the recently announced KISS Kruise! Brace yourself!
For more information on The Dead Daisies, the new album Make Some Noise, and upcoming tour dates with KISS please visit
http://thedeaddaisies.com/
https://www.facebook.com/TheDeadDaisies
https://www.youtube.com/user/TheDeadDaisies