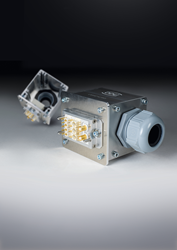 Camarillo, CA (PRWEB) August 25, 2016
ODU, a worldwide leader in designing and manufacturing high performance connectors, is launching to the US market its advanced ODU-MAC® Strain Relief Housing connector solution designed for a wide range of docking applications.
The ODU-MAC® Strain Relief Housing is a modular connector solution designed for automated assembly equipment, PCB board testing and a wide variety of test and measurement applications.
The product portfolio consists of 6 standard docking solutions configurable for fiber, air, fluid, high current, high voltage and high speed and can include 30 different inserts. Additional product features are: data transmission for FireWire, USB 3.0, USB 2.0, CAT6A, CAT5, Ethernet or HDMI, low contact resistance, high contact reliability, up to 100, 000 mating cycles, quick change head for low maintenance time, ability to enclose the PCB directly behind the connector, sealed enclosure for the protection of the terminations, ability to offer strain relief systems for the connections. The housing can accommodate all standard frames and sizes. The strain relief system is fully customizable in number of exits and positioning.
ODU-USA is vertically integrated and provides in-house molding and custom connector capabilities, cable assembly integrated solutions, competitive lead time, rapid prototyping and product development, local one-on-one engineering support, factory direct.
For more product information go to: http://odu-dockingconnectors.com/
The ODU Company Group:
ODU is one of the world's leading connector systems suppliers and employs about 1,650 people around the world. Aside from the company headquarters in Mühldorf am Inn, the ODU Group has also an international production and distribution network in Europe, North America and Asia. ODU combines all relevant areas of competence and key technologies relating to design and development, machine tool and special machine construction, injection, stamping, turning, surface technology, assembly and cable assembly. The ODU Group sells its products around the world and has an international distribution network that includes eight sales companies in Denmark, England, France, Italy, Sweden, the USA, China and Japan, along with numerous worldwide sales partners. The ODU connectors ensure reliable transmission of power, signal, data and media in numerous demanding applications: medical technology, military and security, industrial electronics, measurement and testing and automotive technology.
For press inquiries, please contact:
Dana Stoica, Head of Marketing North America
Phone +1 (805) 484-0540 Fax: +1 (805) 484-7458
Email: dana.stoica(at)odu-usa(dot)com