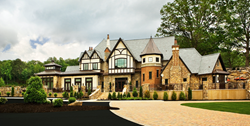 4th Annual No Barriers USA Outdoor Classic Golf Tournament and Luncheon
Asheville, North Carolina (PRWEB) August 05, 2016
For the third consecutive year The Cliffs at Walnut Cove will host the 4th annual No Barriers USA Outdoor Classic Golf Tournament and Luncheon featuring keynote speaker Bob Woodruff on Tuesday, August 30th.
"No Barriers is grateful to be back in Asheville working in partnership with our friends at The Cliffs, to raise money and awareness to support No Barriers Warriors.  The Cliffs has been a wonderful partner, both in creating an inspirational and meaningful program for their members, and in raising funds to support the cost-free programs of No Barriers Warriors.  We change lives - but we cannot do it without the support of communities and partners like the ones we have at Walnut Cove," said Cindy Bean, Chief Development Officer for No Barriers USA.  "Our program for veterans with disabilities, No Barriers Warriors, is dedicated to creating transformational programs that help people rediscover their potential and purpose in life.  No Barriers Warriors serves over 200 veterans with disabilities each year, but also turn away hundreds more due to lack of funding.  It's only through the generosity of others that we can serve more."
The Cliffs at Walnut Cove will host the No Barriers Golf Tournament, which combines a golf tournament and keynote luncheon. Veterans and keynote speaker Bob Woodruff will attend this year's luncheon. While reporting on U.S. and Iraqi security forces for ABC's "World News Tonight," on Jan. 29, 2006, Bob was seriously injured by a roadside bomb that struck his vehicle near Taji, Iraq.
The No Barriers Golf Classic is open to the public and is still accepting registration for four-person teams. A foursome is available at a $1,600 minimum donation and includes tickets to the keynote luncheon. The event is only open to those who register for the tournament. Click here to register or contact Lynn Penny at 828.674.2045 or email at lpenny@cliffsliving.com.
About The Cliffs
The Cliffs is a collection of seven luxury residential mountain and lake communities located in the Blue Ridge Mountains, between two of the nation's top award-winning cities for quality of life - Greenville, South Carolina and Asheville, North Carolina – and Clemson, SC – home to top-ranked Clemson University. The Cliffs' suite of amenities for members includes seven clubs, seven championship golf courses, six wellness centers, boating, watersports, marinas, beach club, cycling, paddle sports, tennis complexes, equestrian center, hiking trails, wakeboarding, wine clubs, 50 restaurant and private event venues, an organic farm and more than 4,000 year-round social activities to create timeless experiences. Homes at The Cliffs range in price from $500,000 to $6 million+; homesites, from $125,000. For more information about The Cliffs, visit CliffsLiving.com or call 866-411-5771.
About No Barriers USA
The No Barriers USA mission is to unleash the potential of the human spirit. Through transformative experiences, tools and inspiration, we help people embark on a quest to contribute their absolute best to the world.  In the process, we foster a community of curious, brave and collaborative explorers who are determined to live the No Barriers Life. No Barriers Warriors is the only program that improves the lives of veterans with disabilities through curriculum-based experiences in challenging environments. Visit NoBarriersUSA.org to learn more about the organization and to find out how you can get involved.
About Real Estate Scorecard
Real Estate Scorecard writes unbiased real estate reviews providing in-depth information about popular gated communities in Florida, Georgia, the Carolinas, Tennessee and Central America, all in an effort to help people discover where to retire in the South.
Website: http://realestatescorecard.com