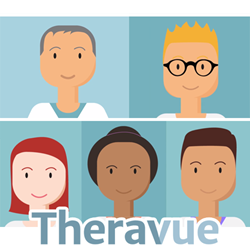 On average, therapists do not get better over time. Our mission is to change that trend and improve outcomes for mental health clients.
Vancouver, BC (PRWEB) August 08, 2016
Noomii.com, the web's largest directory of life and business coaches, is pleased to announce the launch of Theravue Inc, an online application built to help therapists.
After serving the life and career coaching industry for nearly a decade, Noomii.com has decided to venture into the mental health space in order to connect therapists, provide them with evidence-based tools to improve their skills and create better outcomes for their clients.
"Unlike just about any other profession," points out Theravue CEO Kurt Shuster, "the science demonstrates that on average, therapists do not get better over time. Our mission is to change that trend and thereby improve the quality of life for the 50 million people that suffer from mental health disorders in North America every year."
By creating a platform for therapists to share information with their peers in a safe and secure manner, Theravue fulfills an unmet need for peer consultation in the mental health industry.
Therapists sometimes encounter challenging or difficult clients and because of client confidentiality restrictions, they are not able to speak about these situations to anyone else. They are often left feeling isolated or alone in their work and have no outlet to express their feelings or get feedback about their most challenging clients.
When therapists sign up for Theravue, they are placed in a peer consultation group of five therapists, hand-picked to match their experience level and therapeutic-orientation. Groups hold regular, ongoing meetings via Theravue's proprietary HIPAA-compliant (Health Insurance Portability and Accountability Act) video conferencing system.
In addition to CEO Kurt Shuster, Theravue is led by Chief Scientific Officer Bruce Wampold, one of the world's leading psychotherapy researchers.
About Noomii.com:
Noomii is a free online service that helps individuals find their ideal life coach, business coach, or career coach. Noomii has been serving the coaching industry since 2007.
About Theravue.com:
Theravue facilitates peer consultation groups for therapists and better outcomes for therapy clients.