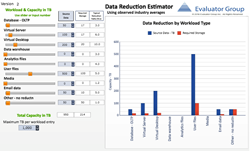 IT Professionals are increasingly required to build business cases for new architectures and investments. New technologies such as flash and object completely change the economic value discussion and are not simply replacements for current technology
Boulder, CO (PRWEB) August 08, 2016
Evaluator Group has developed business cases for its clients for over 10 years through its Strategic and Evaluation Services. We are releasing two interactive economic models from this practice to better educate IT professionals on the new factors needed to consider when making storage decisions, particularly around Flash Systems.
Economic Value Considerations for Flash Storage
Purchasing options are being influenced due to changes in technology which expand the lifespan of systems and specific vendor programs such as evergreen storage. By far the most far-reaching effect is the difference in the longevity of the technology for solid-state storage. Controllers used for storage are primarily based on Intel processors and have a different technology cadence than the solid state. This is not to imply that controllers with their Intel processor technology are no longer serviceable after a defined period. However, there are advantages to move to new controller technology that has benefited from the research and development investments, which have delivered new processors for controllers with greater performance and functional capabilities. Independent of the new controller introduction, flash storage with its longer lifespan is still reliable with high performance across multiple generations of controllers. Economic benefits also come from the change in migration of data due to the longer lifespan. Visit our website to use the model and to find more information in the free white paper.
Economic Value Considerations for Data Reduction
Data reduction has become a prevalent feature in flash storage systems and even though there are some variations in implementation, the reduction of data represents economic value by requiring less physical capacity. The challenge for acquiring all flash storage systems is arriving at a correctly sized system given the workloads and associated data that will be stored. Purchasing too little can lead to another acquisition when running out of space. Purchasing more capacity than required increases the purchase price higher than necessary and does not allow taking advantage of the ongoing price reductions for flash storage.
Data reduction includes data compression and data deduplication. Some flash storage systems offer both while others focus on a single type of technology. The data reduction estimator tool is based on using both, allowing the user to analyze the impact. It should be understood that the type of data determines which reduction technology is the most effective. Visit our website to use this model and to find more details in the free white paper.
"IT Professionals are increasingly required to build business cases for new architectures and investments. New technologies such as flash and object completely change the economic value discussion and are not simply replacements for current technology," said Randy Kerns, Senior Strategist Evaluator Group. "Our economic and Strategic Services help clients build their cases sound long term investment."
IT Professionals can engage with Evaluator Group's Strategic and Evaluation Services to build their strategy and discuss business cases for transitions such as use of All Flash primary storage, addressing capacity demands with Content Repository and archiving options. Contact us for a complementary discussion on your strategy.
About Evaluator Group
Evaluator Group Inc. is a technology research and advisory company covering Information Management, Storage and Systems. Executives and IT Managers use us daily to make informed decisions to architect and purchase systems supporting their digital data. We get beyond the technology landscape by defining requirements and knowing the products in-depth along with the intricacies that dictate long-term successful strategies.