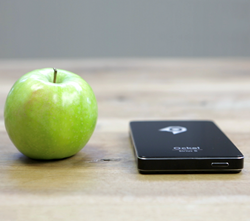 Ockel combined design, portability and functionality in a unique way. This is the ultimate pocket PC.
The Hague, Netherlands (PRWEB) August 04, 2016
Ockel Sirius B, the revolutionary new Windows 10 PC that fits in the pocket and is as light as a smartphone, is live on Kickstarter and raising funds to bring the project to life.
The Ockel Sirius pocket PC is an unbelievably small computer powered by the world's number one operating system, Windows 10. Each device is the size of a smartphone and weighs less than an apple, making it an incredibly portable and lightweight machine.
"We want to build a brand that creates cutting-edge portable technology products. Kickstarter is the perfect place to reach early technology adopters, gather market feedback, and raise the funds necessary to develop our brand and products," says Tim Haaksma, Founder & CEO. "Our mission is to create a hyper-portable, complete Windows 10 PC with an outstanding design at a competitive price."
The Ockel Sirius B is a powerful pocket PC that easily fits into a pocket or bag. With a size close to the latest Apple and Samsung smartphones users will hardly realize they're carrying a complete computer with them. Simply connect an HDMI screen, the power adapter and optionally a mouse and/or keyboard and a complete PC setup is ready in minutes.
Each device is equipped with Intel technology, HDMI, Bluetooth, Wifi, 2 USB ports, a micro SD card slot, audio connections, and flash storage. That means users can connect a keyboard, mouse, speaker or any other external device within the blink of an eye. The USB ports of the Ockel Sirius B are both USB 2.0. while the premium Black Cherry version includes one USB 2.0 port and one USB 3.0 port, enabling the transfer of data up to 10 times faster. They also include ultrafast Bluetooth and Wifi chips, making wireless connections blazingly fast. The Ockel Sirius B has been designed without the need for any ventilation fans, meaning the pocket PC runs 100% silent while benefiting from ultra-low power consumption. Users can also order the Ockel Sirius B without any operating systems pre-installed.
"Ockel combined design, portability and functionality in a unique way. This is the ultimate pocket PC," adds Jesper Baumgarten, Product Manager, "As powerful as a desktop and as portable and light as a smartphone."
The Ockel Sirius B Windows 10 Pocket PC is currently live and available to support on Kickstarter: http://kck.st/2allxgP
About Ockel Computers
Ockel is part of Avanca International, the fastest growing hardware company in the EMEA-region. We are a team of Dutch technology addicts, geeks, marketeers and design wizards. With a combined experience of about 60 years in the gadget, computer and industrial sector we are ready to reinvent the PC, develop groundbreaking products and build an innovative hardware brand.
For more information on Ockel Computers please visit http://www.ockelproducts.com/