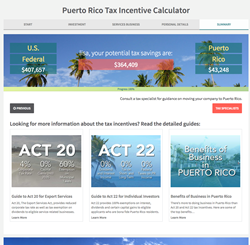 We want to make it easy for investors and business owners to see the benefits of moving to Puerto Rico.
San Juan, PR (PRWEB) August 05, 2016
Business owners and individual investors could save hundreds of thousands of dollars on their taxes every year by moving to Puerto Rico for Act 20 and Act 22. The new Tax Incentive Calculator lets them calculate their potential savings.
Puerto Rico has been in a recession for over a decade and citizens are leaving the island in record numbers for job opportunities elsewhere in the US. The government of Puerto Rico created Act 20 and Act 22 tax incentives to help boost the economy by attracting new residents and creating jobs on the island.

Acts 20 & 22 were written into law in January, 2012
Act 20 for Export Service businesses offers a 4% corporate tax rate for services performed in Puerto Rico.
Act 22 for Individual Investors offers 100% tax exemption on short- and long-term capital gains and 100% tax exemption on interest and dividends from Puerto Rico sources.
There have already been over 1,600 decrees issued
It's estimated that Act 20 will have a $38.5 Billion economic impact by 2024!
Investors and businesses moving to Puerto Rico get the benefits of remaining in the U.S., including keeping their citizenship and operating in the same legal framework, but can also benefit from tax incentives that are among the best in the world.
With a simple user interface and no more than 10 questions, the tax calculator shows potential tax liabilities in the U.S. (federal) and Puerto Rico plus the potential savings of operating from the island. The site provides detailed tax guides for Act 20 and Act 22, and helps users find and contact tax consultants and other service providers to plan a move.
Try it now: https://prbusinesslink.com/tax-calculator.html