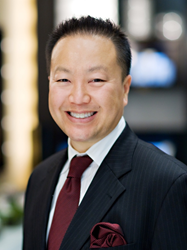 Beverly Hills, CA (PRWEB) August 06, 2016
Dr. Gabriel Chiu, premier plastic surgeon of Beverly Hills, CA, has joined the prestigious Haute Beauty network.
The Haute Beauty Network, affiliated with luxury lifestyle publication Haute Living, is proud to recognize Dr. Gabriel Chiu as a prominent cosmetic surgeon and the network's newest Beauty partner.
Dr. Gabriel Chiu, a board certified plastic and reconstructive surgeon who specializes in the art of aesthetic plastic surgery, is the founder and CEO of Beverly Hills Plastic Surgery, Inc., one of the world's largest and most renowned plastic and cosmetic surgery institutes servicing more than 20,000 patients worldwide.
Dr. Chiu will share his skill and expert opinion with the Haute Beauty and Haute Living subscribers, educating readers on his industry and providing exciting and relevant news, tips, trends and insight relating to his specialties.
About Dr. Gabriel Chiu:
Dr. Chiu received his degree in Microbiology and Immunology at the University of California Berkeley and went on to complete medical school at the Western University of Health Sciences in Southern California. After an internship in the Henry Ford Health System at Bi-County Community Hospital, Dr. Chiu began his general surgery residency in the St. John's Health System in Detroit, Michigan. During training, he transferred to Cuyahoga Falls General Hospital in the Cleveland area of Ohio, where he was chosen as Chief Resident in General Surgery.
After completing his residency, Dr. Chiu began a challenging fellowship in plastic and reconstructive surgery at the Philadelphia College of Osteopathic Medicine. His training encompassed all aspects of plastic surgery, including hand, burn, craniofacial, wound care, microvascular, pediatric, reconstructive, trauma, and cosmetic surgeries. Dr. Chiu was selected Chief Fellow of Plastic and Reconstructive Surgery and oversaw the training of plastic surgery fellows, general surgery residents, oral maxillary facial residents, and medical students at Hahnemann University Hospital (Philadelphia, PA), Medical College of Pennsylvania (Philadelphia, PA), Westchester Medical Center (Valhalla, NY), St. Christopher's Hospital for Children (Philadelphia, PA), and St. Mary's Medical Center (Langhorn, PA).
Dr. Chiu's effervescent personality and warm demeanor make him an ideal plastic surgeon for patients of all ages. His passion for and dedication to artistic perfection, as well as his diligent attention to detail is evidenced by unparalleled surgical results and thousands of satisfied patients. Patients frequently praise Dr. Chiu for his candid recommendations and professional integrity. Though delivering exception results in all facets of plastic and cosmetic surgery, Dr. Chiu is most well known for flawless body contouring, breast augmentation, and facial procedures. Dr. Gabriel Chiu is certified by the ABPS, American Board of Physician Specialties and is the Honorary Recipient of the Commendation by the State of California for Dedicated Service to the Community, Leadership, and Inspiration in Medicine.
Dr. Chiu enjoys spending his free time with wife, Christine. Dr. Chiu is an avid photographer and has an acute talent for capturing the complexity of nature's beauty. Dr. and Mrs. Chiu are devout Christians and attend the Bel Air Presbyterian Church. They are involved in many philanthropic efforts, with Christine serving on multiple boards.
"We are happy to have the pleasure to be inspired and educated by his work." -- The Haute Beauty Team.