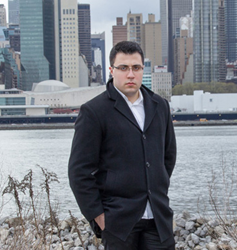 "Giorgi Mikadze is that rare talent that you discover who can do it all." Bonnie Barrett; Director, Yamaha Artist Services
NEW YORK, NY (PRWEB) August 05, 2016
Georgian pianist, composer and arranger Giorgi Mikadze is the latest internationally renowned musician to sign exclusively with Yamaha Artist Services New York.
According to Mikadze, the exceptional quality of Yamaha pianos was a key factor that inspired him to enter into a relationship with the world's largest musical instrument manufacturer.
"Simply put, I think Yamaha upholds the highest standards in piano manufacturing," said the Tbilisi-born pianist. "In particular, I like the CFX concert grand piano, which offers premium craftsmanship, along with remarkable sound resonance."
Yamaha introduced the handcrafted CFX in 2010, having collaborated with many top classical artists to shape a piano of unequaled sound, quality and emotion. Today, the CFX continues to gain momentum as an increasing number of artists are specifically requesting the piano.
"Giorgi Mikadze is that rare talent that you discover who can do it all," says Yamaha Artist Services Director Bonnie Barrett. "He is an incredibly versatile and virtuosic pianist who can play anything from the most cutting-edge, demanding contemporary classical composition, to the most sensitive, sophisticated jazz riffs. He's also a talented composer, arranger and improviser with an incredible feel for all musical styles, including world music, pop, R&B, jazz and classical. Giorgi is surely one of the brightest musical talents of his generation and Yamaha Artist Services New York looks forward to supporting his career for many years to come."
Mikadze first sat down at the piano at the age of five, and by the time he was 12, he was performing piano concertos with symphonies in his native Tbilisi, Georgia. He began composing at the age of 14, and in high school, his fascination with jazz blossomed, after discovering the work of such greats as Errol Garner, Oscar Peterson, Bill Evans, Keith Jarrett and Herbie Hancock.
Mikadze's concerts have been broadcast throughout Europe, Asia and the Americas. His festival appearances include the Newport Jazz Festival, Montreux Jazz Festival, Tbilisi Jazz festival, Bean Town Jazz Festival and the Black Sea Jazz Festival. He is currently touring major U.S. cities as pianist and keyboardist with the legendary jazz pioneer and guitarist Lee Ritenour.
Noted for his supreme technical skills, Mikadze has also performed with the Tbilisi Symphony Orchestra, Berklee Symphony Orchestra and the Manhattan School of Music Jazz Philharmonic Orchestra. He also served as musical director for Berklee's tribute to Quincy Jones.
Mikadze has performed with a number of renowned artists, including Jack DeJohnette, Roy Hargrove, Dave Liebman, Meshell Ndegeocello, Chris Potter, Matt Garrison, Tia Fuller, Patti Austin, Jojo Mayer, David Fiuczynski, Brett Dennen, Siedah Garrett, Stefon Harris, Melwin Davis, Tom Kennedy, Amen Saleem, Phil Wilson and Mulatu Astatke.
He was selected for the highly competitive Betty Carter's Jazz Ahead Program at the Kennedy Center, where he performed for three nights. A prizewinner in many national and international competitions, he was awarded a full scholarship at the International Festival Institute in Round Top, Texas, the Berklee College of Music and Manhattan School of Music, and the president of Georgia.
For more information, please visit http://4wrd.it/YASI.