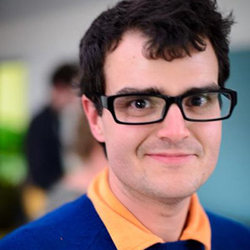 I want people to walk out of this session able to work their way through the expo floor with an understanding of technology, and confidence to recommend more than one individual piece of software.
Portland, Maine (PRWEB) August 05, 2016
Accountex announced Andrew Marder as a keynote speaker at the 13th annual Accounting Technology Conference and Expo. Marder will be presenting How to Develop a System for Selecting Accounting Technology on November 15th at Accountex USA. Finding the right solution for a small business can be difficult with options ranging from installed, cloud-based, and everywhere in between. Small business owners can easily get overwhelmed. The session will lay the groundwork for developing a proven system for software selection including finding pain points, assessing resources and future growth, as well as picking software that will make users happy.
Andrew Marder is a writer with Capterra (a Gartner Company). Capterra is free service provider that helps businesses find the software solutions they need. Previously, Andrew has worked as a writer for the Motley Fool, an investing advice provider, and as a strategy analysts for Barclays, a UK-based bank.
"I want people to walk out of this session with three things: 1) A better understanding of the range of software available to their clients. 2) The confidence to recommend more than one individual piece of software. And 3) The beginnings of a system to help standardize those recommendations." Marder continued, "If everyone can get those three things, they'll have a better time working their way through the expo floor and a better chance of setting their clients up with the right software."
Accountex, the leading independent conference on accounting technology, provides a four-day schedule focused around the solutions that move accounting forward. The educational conference offers CPE with content from more than a single vendor perspective. Sessions are taught by experts, resulting in a high-caliber learning experience with real-world lessons and practical takeaways that can be implemented seamlessly.
The Accountex expo brings together the largest selection of technology solutions and offers professionals in-person time to learn about the latest upcoming trends. The conference is the premier event of the year for the accounting professional and add-on developer community. Accountex will be held at the Mirage Resort and Casino in Las Vegas, Nevada, November 15-18, 2016. Registration is open at AccountexUSA.com.
About Accountex
Accountex is the leading independent expo and conference focusing on accounting technology. Accountex USA focuses on the technology that moves accounting forward as well as the business processes and organizational success needed in the marketplace. It is an independent conference meaning that it offers more than one viewpoint of solutions. Accountex features the most accounting technology solutions at one major event, plus latest trends and the traditional technologies that still dominate, without any focus on a singular suite of products. http://www.accountexusa.com. ###