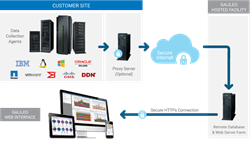 Galileo is like having a crystal ball for your enterprise infrastructure that empowers you to keep operations running without a hitch
Philadelphia, PA (PRWEB) August 08, 2016
Galileo Performance Explorer® the industry's first easy-to-use, cloud-based integrated infrastructure performance management (IPM) suite for servers, storage, SAN and applications, developed by the ATS Group, has added a new agent for Cisco SAN Fabric Technology.
The Galileo Cisco SAN Fabric eliminates the time, cost, and complexity of on-site, enterprise-class Storage Resource Management tools for managing and troubleshooting SAN resources. At-a-glance views and drill-downs of SAN performance data provide information for capacity planning, analysis, and information sharing across IT and business groups. Access to over 180 specific metrics across eight different categories, including fabrics, switches, ports, port errors, ISLs, and ISL errors provide the detail needed to make proactive decisions.
User-friendly, visually engaging dashboards distill data providing at-a-glance insights and enabling users to drill down and pinpoint threatening issues in minutes on performance, capacity and configuration. Plus, users can shape information according to their needs for detailed drilldowns on underutilized SAN capacity showing a global view of all ports and how much capacity, in groups, might be reclaimable. Thresholds provide advanced warnings on when to take action to optimize performance. Galileo also stores historical data, enabling users to view trends and deviations that may signal a need to take action.
"The Galileo Suite is like having a crystal ball for your enterprise infrastructure that empowers you to keep operations running without a hitch," says Tim Conley, Principal and Co-Founder of Galileo and the ATS Group. "Along with currently available Cisco SAN and Brocade SAN Fabric monitoring solutions, our near term roadmap includes enhancements for EMC, Hitachi, Oracle, and other IT infrastructure technologies."
"As Galileo expands its broad vendor agnostic performance management portfolio with this Cisco release, the company deepens their appeal to organizations struggling with the burden to manage the performance of rapidly growing data sets and workloads," said Henry Baltazar of 451 Research.
All Galileo capabilities are accessible for evaluation via a Free 30-Day Trial program or by requesting a personal demonstration. Contact Galileo for flexible monthly subscription pricing that is a fraction of what you would invest in an enterprise-wide solution.