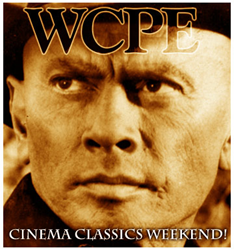 A great film relies on both sight and sound for its impact.
(PRWEB) August 05, 2016
WCPE Music Director William Woltz announces a weekend-long extravaganza celebrating Great Classical Music in the cinema, August 12 through 14, 2016. Throughout this festival, WCPE will share music from films ranging from timeless to obscure. On Saturday you may request your favorite cinema classic here.
"A great film relies on both sight and sound for its impact. So for many of us, the memory of a favorite movie scene is forever linked with the music playing at the time," offers Woltz. "Beginning with Allegro on Friday afternoon, we feature Classical selections that have been used in your favorite films, plus music written especially for the silver screen."
For a stroll down memory lane, hear such notable classical works as:
12 Friday
4:00 p.m. Williams: Main Theme from Jurassic Park
5:00 p.m. Pachelbel: Canon in D
6:00 p.m. Bacalov: Theme from Il Postino
7:00 p.m. Bach: Italian Concerto in F
8:00 p.m. Korngold: Captain Blood Suite
9:00 p.m. Stravinsky: Firebird Suite
13 Saturday
8:00 a.m. Steiner: Overture to King Kong
9:00 a.m. Ravel: Boléro
10:00 a.m. E. Bernstein: Suite from To Kill a Mockingbird
11:00 a.m. Rodgers: Five Selections from Victory at Sea
12:00 p.m. Williams: "Raiders March"
2:00 p.m. Bach: Toccata and Fugue in D Minor
3:00 p.m. Shore: Selections from The Hobbit, The Battle of the Five Armies
4:00 p.m. Gershwin: Rhapsody in Blue
5:00 p.m. Strauss II: The Blue Danube
14 Sunday
7:00 a.m. Williams: Suite from Far and Away
11:00 a.m. Rozsa: Choral Suite from Ben Hur
12:00 p.m. Morricone: Selections from The Mission
1:00 p.m. Shore: "The Fellowship"
2:00 p.m. Williams: Three Pieces from Schindler's List
3:00 p.m. Klimek: Cloud Atlas Sextet
4:00 p.m. Rota: "La Passarella di Addio"
"This is one of our most popular theme weekends, and one that will bring back more than a few memories," adds Woltz.
WCPE's 24/7 live broadcast of Great Classical Music, 24 Hours A Day can be accessed around the globe in several ways; on-line streaming in multiple formats, including IPv6, small dish home satellite reception, local cable television systems and traditional radio broadcasting. A complete list of the ways WCPE is available with instructions for cable and satellite reception can be found at: http://theclassicalstation.org/listen.shtml.
About WCPE:
With a 38 plus year history, WCPE 89.7 FM is a non-commercial, 100 percent listener-supported, independent station dedicated to excellence in Great Classical Music broadcasting. WCPE is heard worldwide on the Internet in multiple formats, including the next generation IPv6. Because WCPE receives no tax-derived support, the station conducts two on-air fundraising campaigns and two major mail-out campaigns per year to raise needed operating funds. For more information, visit http://www.TheClassicalStation.org or call 919-556-5178.
###
Media Contact:
Curtis Brothers
919.556.5178
curtis(at)TheClassicalStation(dot)org