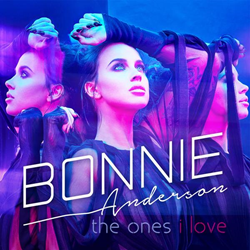 New York, NY (PRWEB) August 05, 2016
Today, Friday, August 5th, Radikal Records has released Australian singer-songwriter Bonnie Anderson's Single "The Ones I Love", the singer's debut releases in North America. The single has received strong support from the likes of Tiesto, Gregor Salto, Above & Beyond and Gareth Emery, which has helped the song reach #2 on UK Music Week's Club Chart and #1 Breakout on Billboard Magazine's Club Song Chart.
The Australian songstress first rose to fame in 2007 when she won first place on Australia's Got Talent at the age of 12. Since winning over the hearts of the Australians, Anderson has enjoyed platinum selling success in that market and has found herself in the Top Ten of Australia's ARIA Chart with her previous single "Blackout." Anderson is also the proud face of global make up brand Maybelline.
"The Ones I Love" is an irresistibly upbeat track with an instantly memorable melody and iconic lyrics. Bonnie Anderson co-wrote the single with top songwriters Michael Paynter and Michael Delorenzis. The idea for the song came to Anderson in a dream, she says "I dreamt my dad had passed away and it really freaked me out. It just really reminded me that life doesn't go on forever. We've got to make the most of what we've got and spend time with the people we love."
"The Ones I Love" is available now along with additional mixes, including remixes from Diamm, DASCO, Alinari, and Soulshaker. The single is available for digital purchase on iTunes, Bandcamp, and Beatport. It is also available on Spotify and other streaming platforms.
Track listing:
1. The Ones I Love
2. The Ones I Love (Diamm Remix Edit)
3. The Ones I Love (Dasco Remix)
4. The Ones I Love (Alinari Remix)
5. The Ones I Love (Soulshaker Remix)
6. The Ones I Love (Diamm Remix)
7. The Ones I Love (Extended Mix)
More information is available at http://www.radikal.com
About Radikal Records:
Established in 1990, and based just outside of NYC, Radikal Records is one of the United States' leading independent record labels. In business for more than 20 years, they are focused on marketing, promoting, and distributing artists – not only to audiences in the USA, but also on a global basis to partners world-wide. Artists included on their roster over the years include: 2 Unlimited, N-Trance, Zombie Nation, ATB, Yello, Scooter, Schiller, Blank & Jones, Cosmic Gate, Sinead O'Connor, Voodoo & Serano, and many others.