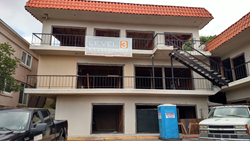 Walking distance to the most authentic Mexican food and minutes away from Downtown San Diego and Mission Valley, we are thrilled about the location of this project.
San Diego, Ca (PRWEB) August 05, 2016
Level 3 Construction was recently awarded the contract for re-positioning an existing 20-unit office building into a boutique extended stay featuring 21 fully furnished studio suites. Solis Place is designed, owned, and operated by the progressive and growing Hotel Investment Group. Located in Old Town San Diego, overlooking Lindbergh field and the San Diego Bay, Solis Place can be seen off the 5 freeway making it the perfect location for students and professionals looking to stay in the heart of the city. The property will receive a complete demolition of interior and exterior finishes, leaving only the existing exterior framing to create a canvas for the newly designed, fresh, contemporary suites. Grand opening is scheduled for winter 2016.
Built in 1965, the property was previously named the Intella II Building and used for office space and retail. Re-positioning the property will include a complete new plumbing configuration to provide full bathrooms and kitchenettes for each unit. A complete rewiring of the building will accommodate new lighting and services to satisfy the tech needs of today's traveler. The hotel will boast, fully furnished studio suites with flat screen TVs, state of the art kitchen appliances, high speed Wi-Fi, and downtown views!
With a number of recent conversion projects, Hotel Investment Group is no stranger to the boutique –extended stay space. "Walking distance to the most authentic Mexican food and minutes away from Downtown San Diego and Mission Valley, we are thrilled about the location of this project. Our company is committed to guest satisfaction, and we designed Solis Place with a keen eye: USB plugs, Netflix streaming, relaxing color scheme, and quality furniture. We cannot wait to offer students and professionals modern, comfortable studios in the heart of Old Town," said Hotel Investment Group's Project Manager, Pooja Patel.
Level 3 Construction's track record of 40+ hotel renovations, six hotel projects currently under construction and recent completion of Blend at the Estancia La Jolla Hotel & Spa qualified them as the perfect candidate for the project. President, Ian Mahon, of Level 3 Construction who worked closely with Hotel Investment Group to negotiate the contract said, "We are excited about this project! It feels great to work on a project so close to home. In our business, boutique hotels give us the opportunity to showcase our craftsmanship and attention to all the small details. We love brand hotel projects, but boutique hotels are fun from a design perspective."
About Level 3 Construction
Founded in 2006 by President and CEO Ian Mahon, Level 3 Construction, located in Carlsbad, is one of California's leading hotel renovation contractors with a growing presence in multifamily, restaurants, office and T.I.'s. Our project experience ranges from commercial remodeling and tenant improvements to multi-million dollar ground up construction projects and renovations. Level 3 collaborates with developers, owners, architects and property owners to implement the most efficient and cost-effective solutions that will reinvigorate a property. Level 3 Construction continues to grow its portfolio of work through quality performance and on-time completion of projects. To learn more about Level 3 Construction's services, contact John Gonzalez at jgonzalez(at)level3construction(dot)com.
About Hotel Investment Group
Founded in 1991 by President and CEO Bhavesh "Bobby" Patel, Hotel Investment Group, located in San Diego, CA, is a dynamic hospitality company specializing in development and operations. The company's portfolio consists of both branded and boutique hotels including the Holiday Inn Express- Hotel Circle San Diego and Hotel Aqua Mar in Point Loma. Hotel Investment Group is currently experiencing exponential growth, with 3 projects in the pipeline and a number of acquisitions underway. Their mantra is to be better today than yesterday with the promise to be spectacular tomorrow. With vision, dedication, and passion, Hotel Investment Group has positioned itself to be at the forefront of the lodging industry. To learn more about Hotel Investment Group, contact Pooja Patel at poojap(at)hotelhosts(dot)com or visit http://www.hotelinvestmentgroup.com.