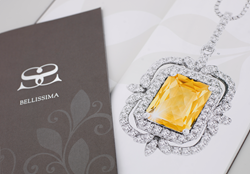 David & Goliath offers top notch web marketing and web services with a team that is only more driven and passionate.
Montreal, Qc (PRWEB) August 08, 2016
David & Goliath, a Montreal communications, marketing and web agency who identify themselves as "Small but feisty… and a very gifted" team ensured that the history behind their name and their identification rang true this year at Summit International Awards.
The SIA, recognizing 22 years of creative excellence attracts creative distinction from over fifty countries around the world annually, priding themselves on 'rigorous evaluative criteria and blind judging processes'. This year, with over 5000 submissions from 21 countries around the globe, David & Goliath proudly scored top place in two categories.
Successfully securing two gold awards for the Business to Business Brochure Entry and for the Non-Profit Entry, David & Goliath showcased:
Bellissima:
A sterling silver edition of the New York based jewelry designer, the brochure exudes the quality and luxury the jewelry line encased inside was made to represent. With metallic silver paper and the soft brilliance of amethyst and quartz studded pages, the design is reminiscent of elegance and royalty.
Everything from the cursive font to the carefully positioned photographs that were taken in house at David & Goliath utilizing Hasselblad technology to ensure that even the most articulate of details of the jewelry were captured, the design was brought to life "with the vision of purity and sophistication", as the president, Bachir Saouaf, affirmed.
Patinage Quebec:
Member of esteemed Skate Canada, a non-profit organization, recognized as one of the largest and oldest figure skating organizations by the Government of Canada and the Canadian Olympic Committee, the brochure was designed to exhibit its fundraising objective to support amateur athletics within the province of Quebec. Merging a contemporary design and soft pastel colors, the brochure is complemented with photographs of dancers characterizing the grace and poise the world of ballet and figure skating symbolizes.
About David & Goliath:
Founded nineteen years ago on the promise of quality, innovation and profitable resolutions, David & Goliath have not only stayed true to their promise through the years, they have evolved to offering integrated design, top notch web marketing and web services with a team that is only more driven and passionate as before. With a portfolio that boasts a host of well-known clients, at David & Goliath, they are proud that they don't just offer you a service, they offer you a promise.