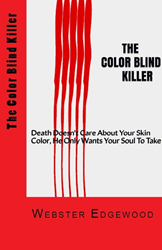 In the Summer of 2016, we lost Black Lives and Police Lives,
New York, New York (PRWEB) September 22, 2016
The Color Blind Killer highlights a black man's journey in America, as he faced discrimination from both whites and blacks, and he lays out his formula, which allowed him to calculate the race equation. Therefore, he no longer looked at humans as black or white, and he only saw them as the oppressor and the oppressed.
Excerpts:
"When a police officer or a white man kills a black man, it is equivalent to a black gangster or black man killing another black man – in both instances you are dead. There is no such thing as black death or white death. Death is death."
"Good Day or Good Night,
Death doesn't care if you are black or white,
He will always love people – whether they are dark or light.
Death is unstoppable, and carrying a gun doesn't provide full protection.
If you go to heaven, is there a black and a white section?
Death doesn't care if you believe in heaven.
He took five police and two black men, which equals seven.
Two black men were killed in Louisiana and Minnesota,
It just seems that these men were part of the system's quota.
Whether you lived in the projects or a palace,
Every race was shot on that night in Dallas.
In the Summer of 2016, we lost Black Lives and Police Lives,
These were Men, who will no longer see their Children or their Wives."
The Color Blind Killer: Death Doesn't Care About Your Skin Color, He Only Wants Your Soul to Take – is available at http://amazon.com/author/thecolorblindkiller
Publication Date: September 20, 2016
Category: Discrimination & Racism, Civil Rights
Author: Webster Edgewood
ISBN-10: 1537219677
ISBN-13: 9781537219677
Page Count: 126 pages
Book Size: 6" x 9"
Language: English
Paperback: $6.99
eBook: $2.99