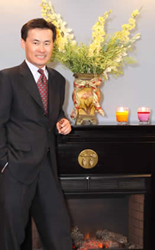 Diamond Bar, CA (PRWEB) August 05, 2016
As a world renowned periodontist, Dr. Jin Y. Kim offers the latest in sedation dentistry in Diamond Bar, CA to calm fears and put dental anxiety to rest. While some people may only need local anesthesia to relax during their dental or periodontal treatment, others may need oral or conscious sedation or general anesthesia. Each patient is examined and assessed carefully for the identification and application of the correct solution to ensure patients receive the proper treatment in a relaxing environment.
The mental discomfort a person may experience when anticipating a dental procedure often varies depending on the type of treatment that must be performed. A person may even feel fearful at the thought of undergoing a routine cleaning or receiving a filling because of sensitive teeth or an aversion to needles. Some individuals may suffer from dental anxiety due to a traumatic incident that occurred in when receiving dental care early in life. This may even lead to a phobia, which often creates an extreme reaction such as a complete avoidance of dental attention, regardless of the pain or other consequences of refusing to seek treatment.
The best oral hygiene habits are unable to completely eliminate the buildup of plaque and subsequent tartar around the gum line, between the teeth and on the roots. This substance irritates the sensitive gum tissue and leads to infection that destroys the structures of the mouth. Scientists have discovered that oral bacteria are associated with health problems elsewhere in the body, too. They have been linked to heart problems, stroke and some forms of cancer, as well as other serious issues. Acknowledging the importance of dental exams, routine cleanings and other procedures, Dr. Kim provides sedation dentistry in Diamond Bar, CA, that allows patients with dental anxiety to receive the care they need without pain and discomfort.
More information about sedation dentistry or the other services offered at his cutting-edge practice is available on Dr. Kim's website at http://www.drjinkim.com, and appointments can be made in Diamond Bar, CA, by calling (909) 860-9222.
About the Doctor
Dr. Jin Y. Kim is a periodontist dedicated to providing personalized dental care in Diamond Bar and Garden Grove, CA. Dr. Kim attended the University of Sydney Faculty of Dentistry before furthering his education with an advanced degree in pathology from the Medical School of the same University. Dr. Kim completed a periodontics and implant surgery residency at UCLA School of Dentistry. A uniquely dual board-certified specialist, Dr. Kim was board-certified by the American Board of Periodontology and the American Board of Oral Implantology/Implant Dentistry. The International Congress of Oral Implantologists and the American Academy of Implant Dentistry both gave him the title of Fellow. He was also inducted to be a Fellow of the prestigious American College of Dentists. Dr. Kim enjoys lecturing at UCLA School of Dentistry as well as national and international academic and clinical associations and universities including the International Association of Dental Research, American Academy of Periodontology and Academy of Osseointegration. To learn more about Dr. Jin Kim and the services he offers, visit his website at http://www.drjinkim.com or call (909) 860-9222 for the Diamond Bar location or (714) 898-8757 for the West Garden Grove location to schedule an appointment.