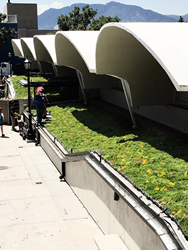 This roof uses climate-appropriate plants that beautify and help connect us with natural spaces while making the building more energy efficient. We're emulating nature to create attractive, effective solutions that support our strategic goals.
Colorado Springs, CO (PRWEB) August 08, 2016
With a 2650 square foot LiveRoof® Green Roof installed on the Honnen Ice Arena, Colorado College moves closer to its goal of becoming Carbon Neutral by 2020. Colorado College has long-embraced sustainability through a progressive plan of tangible initiatives to address energy consumption, sustainability in the dining halls, water resource policies, waste and recycling practices. Living roofs provide important energy reduction benefits such as reducing this ice arena's use of air conditioning during warmer months, while the plants will serve to sequester carbon emissions.
Colorado College is actively pursuing goals such as preserving regional and community water supply by reducing potable water usage by 50%. The institution incorporates operational strategies including storm water management and treatment, water-efficient landscaping, and water-use reduction making a living roof a natural fit for this campus. Green roofs reduce stormwater runoff by 65-90 percent in the summer and 25-40 percent during winter months by utilizing succulent sedum plants. The drought-tolerant sedums have been custom-grown for this rooftop garden to match the local climate. The result is a low-maintenance green space that reduces heating and cooling costs, extends roof life, lowers noise pollution and provides a natural air filtration system.
"At Colorado College we view sustainability in part as a place-based relationship," said Ian Johnson, director of sustainability at Colorado College. "This roof uses climate-appropriate plants that beautify and help connect us with natural spaces while making the building more energy efficient. We're emulating nature to create attractive, effective solutions that support our strategic goals."
At Colorado College, sustainability encompasses elements of the entire campus. Built in 2005, the 54,123-square-foot Russell T. Tutt Science Center was the first building in southern Colorado to earn LEED certification, and the first LEED certified science center in the country. Colorado College has also received LEED Gold Certification for the Cornerstone Arts Center. The College is also a member of the United States Green Building Council (USGBC) and the local Southern Colorado Green Building Council.
"It's exciting for us to partner with Colorado College and support them in reaching their sustainability goals," says Charissa Wagner of Intermountain Roofscape Supply, the local grower of the LiveRoof system. "This living roof will help conserve water, lower heating and cooling costs, and extend the life of the roof. All these benefits contribute directly to the college's goal of becoming carbon neutral in the next four years. We applaud their commitment toward successfully reaching this goal."
Jewett Roofing, in partnership with Duro-Last, installed the green roof at the Honnen Ice Arena.
The new LiveRoof® green roof covering Honnen Ice Arena features a patented, subterranean modular system that unites soil and plants creating a beautiful, meadow-like aesthetic. This green roof is cost effective, providing operational and maintenance cost savings from increased roof life, reduced energy use and stormwater management. The living roof will also reduce noise, protect air quality and provide natural beauty.
Vegetated roofs provide numerous, significant environmental benefits:

Increases roof life; soil and plants provide a protective barrier reducing exposure to ultraviolet rays and extreme temperatures, along with a waterproof roof lining, to extend roof life by as much as 200-300 percent, or 40-50 years.
Reduces energy costs; improved thermal insulation and reduced heat island effect provide heating and cooling savings.
Lowers interior sound levels by as much as 40 decibels.
Improves air filtration; one square foot of green roof foliage can filter seven ounces of dust and smog per year. Plant photosynthesis also reduces greenhouse gases in the air.
Provides natural beauty; rooftop gardens provide a verdant, living space and habitable space when patios, walkways and seating is included in the garden design.
A planted roof also provides financial benefits including: the extension of roof life, energy conservation, and conservation of municipal septic systems. Green builders and remodelers can expect between 10–19 percent higher return on investment, as much as 10 percent increased building value, while enjoyed a marked reduction (up to 14 percent) in building operating costs. (1)
(1) Bernstein, Harvey M. "Green Outlook 2001: Green Trends Driving Growth through 2015" EcoCosm.com. http://www.ecocosminc.com/img/2011_McGraw_Hill_Green_Outlook.pdf (retrieved February 2016)
About LiveRoof® Global, LLC
LiveRoof® Global, LLC (http://www.liveroof.com) is the leading horticultural science company in the green roof industry. LiveRoof's natural function and natural beauty offer the highest level of green roof performance with ultra-low maintenance costs. Exceptional in design, function and endurance, the patented LiveRoof® Hybrid Green Roof System establishes a healthy, sustainable ecosystem that covers the rooftop with seamless, verdant vegetation. LiveRoof and its network of industry leading licensed green roof growers test and develop plants and soils designed to thrive in native climates and grow them in an environmentally responsible manner. LiveRoof has successfully installed over 2000 projects featuring more than five million square feet of green roofs in North America, Europe, Asia, and beyond.
LiveRoof®. Natural Function. Natural Beauty.
http://www.liveroof.com
Media Contact:
Mike Haynes
Marketing and Sales Facilitator
LiveRoof Global, LLC
616-935-1974
About Intermountain Roofscape Supply
Intermountain Roofscape Supply is a family owned operation nestled in the heart of southwest Montana. Our goal at Intermountain Roofscape Supply is to provide you the highest quality plants, soil, sod, and LiveRoof® modules on the market today. We only grow proven plants that can withstand the fluctuating temperature and harsh environment of the rooftop for the mountain states. We believe that education is the key to any successful project. With over 15 years of horticultural experience, we will work together with you to select the proper supplies needed to complete your project. We guarantee to have the highest quality and services available. Intermountain Roofscape Supply is a division of Summit Valley Turf Farms.
http://www.intermountainroofscapes.com
Media Contact:
Charissa Wagner
Intermountain Roofscape Supply/Summit Valley Turf Farms
406-490-7844 mobile
406-287-2268 office
About Colorado College
The Colorado College is a private liberal arts college in Colorado Springs, Colorado, United States, near the foot of the Rocky Mountains. It was founded in 1874 by Thomas Nelson Haskell. The college enrolls approximately 2,000 undergraduates at its 90-acre campus, 70 miles south of Denver. The college offers 42 majors and 33 minors, and has a student-faculty ratio of 10:1. Famous alumni include Ken Salazar, Lynne Cheney, James Heckman, Marc Webb, and Renan Ozturk. Colorado College has an acceptance rate of 17%, was ranked as the best private college in Colorado by Forbes, and was listed as the 25th-best National Liberal Arts College in the 2016 U.S. News & World Report rankings.
Media Contact:
Leslie Weddell
Director of News and Media Relations
Office of Communications
719-389-6038 office