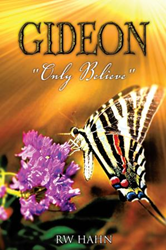 May every reader get a 'touch from God' in a personal way – Only Believe!
Miami, FL (PRWEB) August 08, 2016
Within the pages of RW Hahn's new book, GIDEON - "Only Believe", ($25.99, paperback, 9781498443722; $43.99, dust jacket, 9781498443739; $9.99, e-book, 9781498443746) is a thought provoking story – a story answering the question, "if a child is brought up without any outside influences but the Word of God, what kind of child would he grow up to be?" A preacher narrates the book telling his congregation the story of a single woman named Jenny and the day her life was transformed by God through a baby named Gideon. Found by Jenny in a motel room, the baby boy seems to be nothing short of a miracle. He is accompanied by a Bible – the Gideon Bible – hence his name. Jenny relishes the role of becoming little Gideon's mother. Perhaps Jenny focusing on this little life will help her regain her own.
Jenny brings Gideon to her secluded family home. She dedicates Gideon to God, and reads to Gideon from the Bible day and night. She hides him from the townsfolk, those who killed her family – over a church. As Gideon grows older, Jenny realizes just how special he is. Gideon truly believes in the Word of God, and becomes Christ-like in his ability to heal through his belief. Gideon knows his mission is to lead people to Jesus in order to save their souls. Jenny knows that she will have to share Gideon with the world, starting with the very people she's been shielding him from. When the townsfolk converge on the mountain, it is through Gideon that they realize it's time to remove their differences, prejudices, and accept each other – whether black or white.
"I hope that Gideon will instill a child-like faith in the reader – that the thing he or she hopes for, they may believe for," states the author. "As the Bible says, 'All things are possible with God' and not because of who they are, or what they do that earns it, but because Jesus loves them and desires an intimate friendship with them. May every reader get a 'touch from God' in a personal way – Only Believe!"
RW Hahn was born and raised in Miami, Florida. He graduated from Northwestern University in Radio/TV/Film with a Bachelor of Science degree. RW is an actor, director, and an award-winning screenwriter, as well. Having grown up in a mixed-race family in the inner-city of Miami, and attending a predominately black high school, he experienced hate and prejudice from school bullies because of the color of his skin. However he also experienced a great love from his black stepfather's family. Eventually the bullies at school got to know him better, and they became friends. RW learned through the power of forgiveness that anyone could overcome ignorance and what it breeds.
For more information about the author or his outstanding book, please visit http://www.rwhahn.com.
Xulon Press, a division of Salem Media Group, is the world's largest Christian self-publisher, with more than 15,000 titles published to date. Retailers may order GIDEON - "Only Believe" through Ingram Book Company and/or Spring Arbor Book Distributors. The book is available online through xulonpress.com/bookstore, amazon.com, and barnesandnoble.com.
Media Contact: RW Hahn
Email: harw001(at)aol(dot)com
Website: http://www.thegideonnovel.com