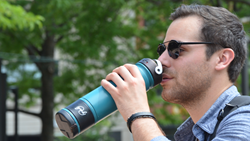 The response to this campaign has been nothing short of amazing
Chicago (PRWEB) August 05, 2016
With less than ten days to go in their crowdfunding campaign on Kickstarter for the new multifunctional Golchi Travel Bottle, which holds two drinks of drastically different temperatures at the same time, creators Harsh and Ankita Garg have raised more than $300,000 from backers – making their campaign the most popular for a thermos-type bottle in crowdfunding history.
In breaking the crowdfunding mark, the couple surpassed their original fundraising goal of $30,000 by ten times and opened three stretch goals set for the campaign – unlocking a new style, offering Golchi in a mix-and-match option allowing choices of six colors and four styles to choose from, and allowing backers to choose from three specific city skylines that will be voted by the bottle's backers.
"The response to this campaign has been nothing short of amazing," Harsh Garg said. "To raise more than $300,000 for a multi-use beverage carrier, and from supporters around the world, shows the need for the product in nearly every country, and the versatility of Golchi to be used by so many people who travel to the gym, to work or by air around the world."
Including the ability to carry two beverages in any combination of hot and cold at the same time, with vacuum-insulated compartments that keep drinks cold for 24 hours and drinks hot for up to 12 hours, Golchi has 15 innovative features that allow it to be adapted to every drinking situation – and can be reassembled for use in four different modes.
Also, Golchi's includes a separate storage compartment that offers a place to store protein powder, baby formula, cereal, snacks or even medicine.
"Moms can use it to carry hot water and mix it with dry baby formula on-the- go and have a juice drink for their child – all in the same bottle," Garg said. "Likewise, people who are working out or taking a run can carry their pre-workout and post-workout drinks in the same container, and airline travelers can carry their hot coffee and cold drink on their flights...again, in a single bottle."
The Golchi, which has a modular design that allows it to go from big-to-small or from one to two bottles in an instant, also features a three-point patented controlled-flow mechanism that allows users to pick the size of the drinking spout to conform with the hot or cold beverage they're about to drink. Golchi's multi-purpose lower compartment is standardized to carry soda cans and, because of its wide mouth, it can also be used as a food canister for carrying breakfast cereals or a variety of snacks.
The Golchi was also designed with an add-on, collapsible tea infuser that can be carried in the middle compartment and placed on the mouth of lower compartment when in use. It also comes with built-in extenders, so it can also be used with cup holders of varying sizes for the perfect fit.
"It's this versatility that has made Golchi such a success," Garg said.
Only a few days remain for consumers to purchase Golchi at a special Kickstarter price, which is set at about $30 less than the full retail price until the campaign ends.
Garg says production is already under way and buyers can expect to receive their "one-of-a-kind" travel bottle in December.
About Golchi
Golchi LLC is a Chicago-based startup company focused on re-imagining everyday products for people with active lifestyles. 'Golchi' was created with 'GO' and 'Chill' as two core ideas and a name free from confines of any language. The company also developed a logo that has character, is compatible with 'invertible' nature of our bottle and representative of the thought put into the bottle design. The terms "go" and "ch" in the logo denote two compartments of our bottle. The two dots on the sides of the logo depict two openings on the either side of our bottle. The logo is also an ambigram, which when rotated by 180 degrees in any direction, it retains its identity. For more information, visit http://www.mygolchi.com.