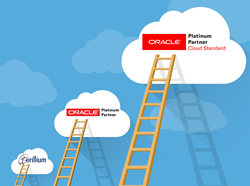 Terillium is excited to be part of Oracle Cloud. Our large consulting team is extremely experienced in ERP. Expanding our cloud knowledge enables us to broaden our service offerings to customers
Cincinnati, OH (PRWEB) August 08, 2016
Terillium, an Enterprise Resource Planning (ERP) consulting firm and Platinum level member of Oracle PartnerNetwork (OPN), announced today it has achieved the Cloud Standard designation within the OPN Cloud program.
The OPN Cloud program enables members to showcase their expertise, skills and investment in Oracle Cloud, as well as differentiate themselves with Oracle's integrated cloud applications and platform services.
To achieve the Oracle Cloud Standard designation, Terillium has demonstrated skills and expertise in Oracle ERP Cloud. Terillium has also influenced Oracle ERP Cloud and Oracle Financials Cloud customer subscriptions.
"Terillium is excited to be part of Oracle Cloud. Our large consulting team is extremely experienced in ERP. Expanding our cloud knowledge enables us to broaden our service offerings to customers," said Mike Wahl, Vice President at Terillium. "In addition to specialized training for our team, Terillium has been very active in working with Oracle to promote enterprise cloud products to businesses looking for modern business systems."
Terillium collaborates with Oracle to design solutions that meet the business needs of prospective customers. In recent months, Terillium collaborated with Oracle to close cloud deals with three new customers including Conifer Holdings, Inc., a public insurance company headquartered in Michigan.
Oracle Cloud is the industry's broadest and most complete public cloud, delivering enterprise-grade services at every level of the cloud technology stack including software as a service (SaaS), platform as a service (PaaS), infrastructure as a service (IaaS), and data as a service (DaaS).
About Terillium
Terillium is an award-winning Platinum level member of Oracle PartnerNetwork, specialized in the implementation of Oracle JD Edwards, Oracle Sales Cloud and Oracle ERP Cloud. Terillium has helped over 500 businesses with successful enterprise software projects. The Terillium team of 150 consultants has unsurpassable product knowledge and is straightforward in their project approach.
About Oracle PartnerNetwork
Oracle PartnerNetwork (OPN) is Oracle's partner program that provides partners with a differentiated advantage to develop, sell and implement Oracle solutions. OPN offers resources to train and support specialized knowledge of Oracle's products and solutions and has evolved to recognize Oracle's growing product portfolio, partner base and business opportunity. Key to the latest enhancements to OPN is the ability for partners to be recognized and rewarded for their investment in Oracle Cloud. Partners engaging with Oracle will be able to differentiate their Oracle Cloud expertise and success with customers through the OPN Cloud program – an innovative program that complements existing OPN program levels with tiers of recognition and progressive benefits for partners working with Oracle Cloud. To find out more visit: http://www.oracle.com/partners.
Trademarks
Oracle and Java are registered trademarks of Oracle and/or its affiliates.