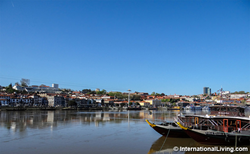 According to the report, however, couples can live comfortably on much less than that…even on a budget limited to a modest Social Security payment.
Baltimore, MD (PRWEB) August 08, 2016
Portugal's second city, Porto, has long been famed as the home of port, the fortified wine beloved by the British. Today Porto is newly chic. Wine bars and trendy restaurants dot the city. Its urban beaches on the nearby Atlantic put sand and surf within easy reach. And its cozy, historic city center, with its colorful tiled buildings and its parks and squares, invites exploration.
Porto is one of Europe's most popular "vacation-break" destinations. Now it has begun to grab expats' attention, too, thanks to its low costs; cool, mild climate (similar to the Pacific Northwest in the U.S.); seaside location; many English-speaking locals; and an ambience that is both friendly and sophisticated.
According to the report, Porto suits those who like big-city style in a small package. The Greater Porto urban area has about 1.5 million inhabitants, an international airport, concert halls, sports centers, hospitals, and other big-city amenities. But central Porto is home to only about 250,000 people. This gives it a small-city feel, with friendly, personable locals, a very walkable city center, and residential neighborhoods that are near and easy to reach.
The latest International Living report on Porto finds that U.S. expats and retirees are enjoying a remarkably low cost of living. Rents range from $400 - $1,000 a month in near-beach areas popular with expats.
In upscale neighborhoods like Foz, Boavista, and Matosinhos, comfortable two-bedroom apartments for sale can run $225,000 or more. Upscale city center neighborhoods like Aliados may run somewhat higher per square foot.
Other living costs in Porto are agreeably low as well, with food costs averaging about 65% less than what residents typically pay in the States. Clothing in Portugal averages about half the price.
One big cost advantage for U.S. expats and retirees is healthcare since, with a residence visa, they can qualify for the national healthcare system.
The International Living report finds that a couple can live extremely comfortably in Porto on $3,390 a month, a budget that would include regular travel within Europe. According to the report, however, couples can live comfortably on much less than that…even on a budget limited to a modest Social Security payment.
The International Living report contains more information and interviews with expats and retirees living in Porto. Find the latest International Living report at: Explore the Old World in Laidback Porto, Portugal.
Editor's Note: Members of the media have permission to reproduce the article linked above once credit is given to InternationalLiving.com.
For information about InternationalLiving.com content republishing, source material or to book an interview with one of our experts, contact Associate Editor Carol Barron, 772-678-0287 (US), CBarron(at)InternationalLiving(dot)com or visit the Media Center.
For 36 years, InternationalLiving.com has been the leading authority for anyone looking for global retirement or relocation opportunities. Through its monthly magazine and related e-letters, extensive website, podcasts, online bookstore, and events held around the world, InternationalLiving.com provides information and services to help its readers live better, travel farther, have more fun, save more money, and find better business opportunities when they expand their world beyond their own shores. InternationalLiving.com has more than 200 correspondents traveling the globe, investigating the best opportunities for travel, retirement, real estate, and investment.