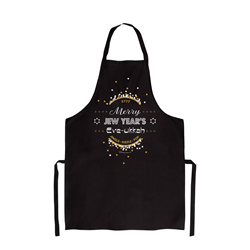 This year, with the first Hanukkah candles lit on Christmas Eve and the menorah fully lit on "Jew Year's Eve", 2016 is the year of Merry Jew Year's Eve-ukkah," says Kritzer
Austin, TX (PRWEB) August 08, 2016
Not since Thanksgivukkah, when the Jewish winter holiday of Hanukkah overlapped with Thanksgiving in 2013, have Jews been so excited for their winter holiday season.
Jews all over the world will be lighting the first Hanukkah candles on Christmas Eve, December 24th, and will continue to light the menorah (plus Shabbat candles) through New Year's Eve, December 31st. Food blog What Jew Wanna Eat and hip Judaica store ModernTribe.com will be ready with unique gift ideas and recipes to celebrate this crossover of holidays. Owner Amy Kritzer promises hilarity and exclusive products to help celebrate these two highly unusual holiday mishmashes.
"Chrismukkah, the popular name for the Hanukkah and Christmas combination holiday, has been a fun trend for years, especially in homes that celebrate both holidays. But this year, with the first Hanukkah candles lit on Christmas Eve, the potential for overlap is even more exciting. Add in that the Hanukkah menorah will be fully lit on "Jew Year's Eve" - what I'm calling the cross between Hanukkah and New Year's Eve -and we're really going to have eight crazy nights. 2016 is the year of Merry Jew Year's Eve-ukkah," says Kritzer.
New products in development include witty t-shirts, ugly Chrismukkah sweaters, Hanukkah inspired Christmas decorations, and Jew Year's Eve decorations and noisemakers. Kritzer will also have combination recipes on What Jew Wanna Eat celebrating the mash-up including Eggnog Sufganiyot, Manischewitz Champagne Spritzers and Jew Year's Day Lucky Latkes.
In 2013, ModernTribe.com created the internationally famous t-shirt for Thanksgivukkah and was able to raise $20,000 for charity to help feed the hungry. This year, their dedication to giving back continues: What Jew Wanna Eat and ModernTribe are partnering with OneTable, giving a percentage of proceeds to help millennials build a network of home-hosted Friday night Shabbat dinners.
Secular and Jewish media alike will want to include this very unusual calendar overlap of Merry Jew Year's Eve-ukkah in their coverage of the 2016 winter holiday season.
###
ABOUT MODERNTRIBE
ModernTribe brings fresh, design-forward and trendy Jewish gifts and Judaica to the new Jewish generation online at ModernTribe.com (since 2007)
ABOUT WHAT JEW WANNA EAT
What Jew Wanna Eat is your source for (sometimes) kosher modern Jewish recipes. Founder Amy Kritzer is also the author of the cookbook Sweet Noshings and her recipes have been featured in magazines and on websites such as Bon Appetit, Food & Wine, Gluten-Free Living and The Huffington Post. Her Instagram account has been named a top Jewish account and a top Jewish food account, and she has spoken at numerous events and conferences including SXSW 2015.
Photos available for media use, credit ModernTribe.
Follow ModernTribe on social media:
Facebook: facebook.com/ModernTribe/
Twitter: twitter.com/moderntribe_jew
Instagram: instagram.com/moderntribe_jew/
Follow What Jew Wanna Eat on social media:
Facebook: facebook.com/whatjewwannaeat/
Twitter: twitter.com/WhatJewWannaEat
Instagram: instagram.com/whatjewwannaeat
###