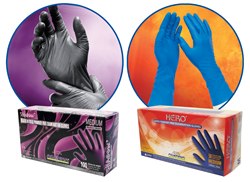 "Matco Tools is excited to bring the Adenna product line to our 1700+ stores
Irvine, California (PRWEB) August 16, 2016
Adenna Inc., a worldwide supplier of high-quality, synthetic and rubber latex disposable gloves, is excited to announce the recent signing of an agreement with Matco Tools. This agreement covers the distribution of Adenna's synthetic and latex disposable gloves to automotive professionals and enthusiasts through MatcoTools' fleet of over 1,700 mobile franchised distributors and their comprehensive online catalog.
Adenna offers a wide variety of synthetic and rubber latex disposable gloves manufactured to the highest-possible standards to ensure exceptional performance, protection and comfort for all automotive professionals.
"Matco Tools is excited to bring the Adenna product line to our 1700+ stores and to provide technicians with the materials they need to keep their hands protected on the job", said Sara Wilson, Product Manager – Specialty Tools of Matco Tools.
"We're very excited about our partnership with Matco Tools," said Maxwell Lee, President and CEO of Adenna Inc. "Their fleet of mobile distributors offer automotive mechanics and technicians easy access to purchase Adenna disposable gloves, so they can protect their hands and their health. We're committed to making this partnership a success."
Matco Tools manufactures and distributes quality professional automotive repair tools, diagnostic equipment, and toolboxes. Product lines currently include more than 20,000 items and are sold through a network of independent franchised mobile distributors in all 50 states, Canada and Puerto Rico.
Established in 1997, Adenna Inc. markets and distributes a variety of hand protection and healthcare products around the world. Adenna ensures a rigid standard of excellence and affordability in its products to best serve the needs of customers across a variety of industries including: automotive, industrial, healthcare, dental, laboratory, law enforcement, safety, tattoo body art, sanitary maintenance and veterinary care. Equally important is Adenna's dedication to an "outstanding" customer service experience. To learn more about Adenna's gloves and how to better protect your hands, go to https://vimeo.com/adenna and watch the educational and testimonial videos available.