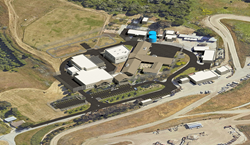 This is a continuation of a valued 10-year working relationship with the County of Santa Cruz and we are excited to be the first firm to introduce the County to the benefits of the design-build approach - Selene Lenox, Vice President, Gilbane Building Co
(PRWEB) August 18, 2016
Gilbane Building Company, a nationally recognized leader in construction, has been selected by Santa Cruz County for the design-build of the Rountree Rehabilitation & Re-Entry facility expansion. This expansion will provide approximately 29,300 square feet of new housing and a program which includes 64 minimum security beds, a dayroom, a visitation area, administrative facilities, an intake/release area, and facility support space. Renovations to the existing structure will provide an educational/vocational program area, an interview and counseling room, group rooms, indoor recreation, administrative support space, an officer workstation, video visitation stations, restrooms and a new laundry facility.
This important project represents the embodiment of the Sheriff Department's commitment to rehabilitation by creating an environment that encourages and facilitates a return path to society through meaningful job preparation and readiness programs.
"For the Gilbane | Arrington Watkins team, this project presents several exciting opportunities," said Selene Lenox, Vice President of Gilbane Building Company and native of Santa Cruz County. "This is a continuation of a valued 10-year working relationship with the County of Santa Cruz and we are excited to be the first firm to introduce the County to the benefits of the design-build approach; and deliver a project which enhances the Sheriff Department's focus on rehabilitation. Needless to say, we are all delighted."
About Gilbane Building Company
Gilbane provides a full slate of construction and facilities-related services – from pre-construction planning and integrated consulting capabilities to comprehensive construction management, close-out and facility management services – for clients across various markets. Founded in 1873 and still a privately held, family-owned company, Gilbane has more than 50 office locations around the world.