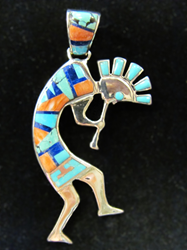 We at SilverTribe.com believe he will make an excellent companion for people looking to enjoy the summer festivals that make the country so vibrant and alive
(PRWEB) August 10, 2016
In Native American culture, Kokopelli has been regarded as a deity with many different stories and origins, depending on the culture depicting him. As far as Kachinas go, Kokopelli's beginnings are a bit of an enigma. He's typically seen as a hunchback flute player with antlers. Many regard Kokopelli as a fertility god, bringing mothers healthy children and a bountiful crop for harvest. Many others see him as the spirit of music, playing whimsical tunes with his flute. For these reasons, his totem is believed to bring people good luck.
SilverTribe.com, a company that provides the public with handcrafted Native American and Southwestern jewelry from renowned artists, is happy to celebrate the summer music festival season with the release of new Kokopelli jewelry. They hope to bring festival-goers good fortune and embody the spirit of music as they enjoy the festivities.
The spokesman of the company, Chris Anderson, gave a few comments with this new release as well. "I think Kokopelli is one of the most popular representations of Native American culture in the Southwest. I see him decorating homes, businesses, and playing his tune in art museums as well. Our Native American artists put forth the cultural aspect, along with their talent, to create beautiful examples of the free-spirited deity. We at SilverTribe.com believe he will make an excellent companion for people looking to enjoy the summer festivals that make the country so vibrant and alive."
The new Kokopelli collection from SilverTribe.com "has something for everyone," says Anderson. The team at SilverTribe.com has taken the time and effort to comprise a collection worthy of the famous figure and his long-standing history in both Native American and Southwestern culture. People can carry this figure with them to see their favorite bands and meld with the music."
The main feature of the collection adheres to the festive-going crowd and is primarily made up of an impressive selection of Kokopelli pendants and necklaces. Anderson also mentioned, "Some of the best festivals I've seen take place in the Southwest. I especially love the ones in Austin. However, the free-spirited nature of Kokopelli will likely fit into any festival atmosphere this year and we are very excited for people to engage in the cultural aspect of the figure as well."
Anderson and his team welcome any newcomers to the site and offer discounts and exclusive offers to people that sign up for their email list as well. The company hopes that more people will become interested in Native American and Southwest culture with the purchase of the friendly Kokopelli figure in the near future.