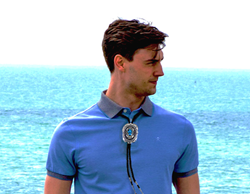 The style breathes life back into dad's old Polo shirts and adds a sense of class to an outfit as well.
(PRWEB) August 11, 2016
People are beginning to take notice of a new style that combines two timeless fashion pieces, called Polo Bolo. The style utilizes plain Polo collared shirts with the accent of a bolo tie at the center. The style is doing quite well in the mainstream industry due to its versatile use for both casual and professional settings, as well as the ease of which it can be made into an outfit. "The style breathes life back into your dad's old Polo shirts and adds a sense of class to any outfit as well," says SilverTribe.com spokesman Chris Anderson.
SilverTribe.com has recently come out with a new collection of bolo ties for both men and women, but wanted to emphasize the new trend with their new set of men's bolo ties for their release. The company has proudly represented some of the finest artists in the Southwest, taking to the handcrafted art of silversmith and stonework to set traditional Southwest stones into a finely cut silver setting. While the site predominantly features turquoise, Native American, and Southwestern jewelry and art, the team is really excited for their newest launch of bolo ties.
Anderson also commented on the release by stating, "What makes the style so popular, among both younger and older groups, is the simplicity. A simple shirt which most people have and a nice bolo tie to add some flavor into the mix and men are ready to start their day in style."
The new collection of men's bolo ties feature a wide array of different styles, colors, stones, and symbols to add an extra element of culture into the otherwise plain outfit. Among the ties in the release, the company offers turquoise bolo ties, which the team recommends coordinating with simple white Polo shirts to make the color pop, and more intricate designs by their Native American bolo tie artists are offered as well.
Anderson and his team have been meeting with the various artists they represent for the past few months to come up with this new collection and are confident that men will take to the style as the demand and popularity for it grows in 2016. Anderson also noted, "I've seen many stores incorporating Southwest fashions into their outlets this year. It's crazy how popular the modernized Southwest style is becoming. This new collection is our way of preparing people for the wave of clothing that is hitting the stores by adding complementary accessories into the mix."
The team at SilverTribe.com invites anyone interested in the new trend or the Southwest style as whole, to their main site to find more Southwestern and Native American fashion.