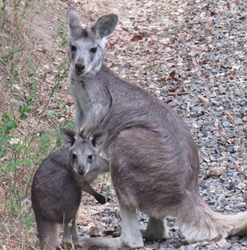 We're very excited about the arrival of this new joey, who brings our wallaroo "mob" - the term for a group of wallaroos - to 12
Oakland, CA (PRWEB) August 05, 2016
A baby wallaroo, called a joey, has emerged from mom's pouch at Oakland Zoo. Wallaroos are a species similar to but smaller than a kangaroo. Too early yet to determine the baby's sex, ZooKeepers are waiting to name the joey until a gender can be determined.
Although it's impossible to determine an exact birthdate, zookeepers estimate it between October - November last year. Joeys are technically born after only one month's gestational period - fur-less, blind, and about the size of a kidney bean (1'' long). The tiny newborn will crawl unaided from the birth canal to the mother's pouch where it begins to nurse. There it will continue to develop, not making an appearance until it is six to eight months old. (Zooborns. (n.d.) Retrieved from: http://www.zooborns.com/zooborns/2011/05/baby-wallaroo-peeks-out-of-the-pouch.html
"We're very excited about the arrival of this new joey, who brings our wallaroo "mob" - the term for a group of wallaroos - to 12. For guests who get a peek from our Outback Adventure Train, the joey can often be seen near its mother, sometimes resting in the shade during the warm summer days or foraging on the lush grass in the cooler morning and evening hours," Valerie Salonga, Zookeeper.
Since a Joey will not start coming and going from the safety of its mom's pouch with any regularity until approximately ten months of age, only recently has the youngster begun grazing on grass, eating food-pellets, and spending time with female wallaroos in the mob other than its mother. More active every week, the joey is still quite shy and mom, Tallara, remains very protective.
Zookeepers are giving mom and joey plenty of privacy during this transitional period, providing a morning diet in a holding area and allowing Tallara to choose whether or not to go on exhibit each day.
***Download images and b-roll here***
ABOUT OAKLAND ZOO:
The Bay Area's award-winning Oakland Zoo is home to more than 660 native and exotic animals. The Zoo offers many educational programs and kid's activities perfect for science field trips, family day trips and exciting birthday parties. Oakland Zoo is dedicated to the humane treatment of animals and wildlife conservation onsite and worldwide; with 25¢ from each ticket donated to support conservation partners and programs around the world. The California Trail, a transformational project that more than doubles our size, opens in 2018,
and will further our commitment to animal care, education, and conservation with a focus on this state's remarkable native wildlife. Nestled in the Oakland Hills, in 500-acre Knowland Park, the Zoo is located at 9777 Golf Links Road, off Highway 580. The East Bay Zoological Society (Oakland Zoo) is a nonprofit 501(c)3 organization supported in part by members, contributions, the City of Oakland and the East Bay Regional Parks. For more information, go to: http://www.oaklandzoo.org