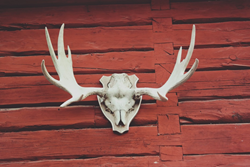 Nature fascinates us all. It's humbling to learn so much about a culture that views hunting as such a sacred act. This new collection was meant to honor the brave warriors that provided life for their people by sacrificing the life of another creature."
(PRWEB) August 06, 2016
Hunting was one of the largest aspects of Native American culture along the Southwest and continues to be a powerful influence on the community today. The tribes that once dominated the west incorporated their beliefs into hunting and, depending on the culture, would adhere to strict rituals before, during, and after a kill. Some would honor the spirit of the animal by sacrificing certain organs, while others would make sure to use every piece of the body to properly honor the beast. In Native culture, the act of hunting is, for the most part, is considered a sacred act. One must take life in order to preserve their own and that exchange has remained a profound part of the culture.
In honor of the summer hunting season, SilverTribe.com has released a new set of handcrafted hunting knifes that honor both the tradition and culture that regard hunting so highly. The set features a traditional hunting knife, coupled with a beautiful handcrafted leather scabbard to accompany the piece.
The company, Silvertribe.com, has made a name for itself in the art community by representing some of the highest quality artisans and featuring their work for the general public to enjoy. In the spirit of Native culture, each knife features a symbol that is believed to imbue the wielder with favorable attributes for hunting, such as the bear for both strength and protection.
The spokesman for SilverTribe.com, Chris Anderson, released a statement with the launch of their latest collection of hunting knives. "Nature fascinates us all. It's humbling to learn so much about a culture that views hunting as such a sacred act.
This new collection was meant to honor the brave warriors that provided life for their people by sacrificing the life of another creature.
Ken Richardson is the talented blacksmith behind this recent release. Anderson added, "For those that believe these knives are just for decoration, they're not. Although Richardson polished, carved, and painted these knives to perfection, they were meant to be used and have the fine edge to prove it."
Anderson and the staff at SilverTribe.com hope to instill the values and connectivity to nature of Native Americans in the general public this year with this new release.