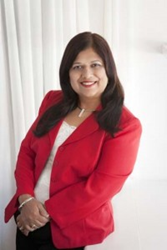 Traditional risk factors in heart disease load the gun. Stress pulls the trigger.
Newtown, PA (PRWEB) August 09, 2016
Employee Health Wellness Speaker, Dr. Arathi Rao was awarded "Elite Expert Speaker Status" by FreeSpeakerBureau.com, an online platform that connects meeting planners to guest speakers and topic experts. The Newton, PA, cardiac psychologist and wellness coach is co-author of the best-selling book: How the Fierce Handle Fear: Secrets to Succeeding in Challenging Times.
Besides maintaining a successful clinical practice, Dr. Rao offers workshops in stress management and productivity. She consults with businesses who want to reduce health insurance costs and improve productivity and motivation in the workplace.
"All too often, people don't realize how important stress management is until they have a heart attack. Traditional risk factors in heart disease load the gun. Stress pulls the trigger."
Dr. Rao is a volunteer spokesperson for the Cardiovascular Institute of Philadelphia. Her work with heart patients has been featured in the WHYY TV 12 "Heart Moments,"ABC News and written about in regional newspapers and magazines. She has been interviewed on the topic of "Stress, Success & Wellness" on several radio stations across the country including WGN Chicago, WGTK Louisville KY, KHNR Doctor Health Radio, Hawaii, WWDB Radio talk show, WURD Philadelphia talk radio, and many others.
To receive her latest recognition as"Stress Management Expert Elite Speaker" from FreeSpeakerBureau.com, Dr. Rao completed a rigorous training program and earned endorsement by demonstrating a high level of expertise throughout a comprehensive vetting and verification process The Newton, PA Psychologist joined FreeSpeakerBureau as a stress management expert in October 2015.
Unlike a typical speaker's bureau, the FreeSpeakerBureau.com website encourages meeting planners to contact expert speakers directly because no money is being exchanged and no commissions are involved. Ethics guidelines for members discourage speakers from giving a "hard sell" for their services or premiums. Thousands of meeting planners and expert speakers throughout the U.S., Canada, and the UK have joined and are using the website to connect every day for free.
Not just a database of public speaker profiles, FreeSpeakerBureau.com is an interactive platform where organizations can post "Guest Speaker Wanted" listings up to a year in advance. Alternatively, organizations can proactively connect with local experts and browse through online portfolios which include detailed speaker profiles, their signature speaking topics, ratings, reviews, and video samples.