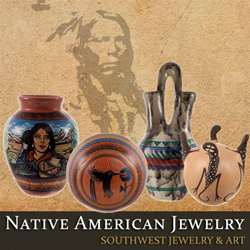 That's why these pieces are truly for anyone that wants to embrace Native American culture in their own homes.
(PRWEB) August 12, 2016
The art of pottery has been around for thousands of years and remains one of the most powerful examples of Native American storytelling. There have been many styles used for creating pottery, from Raku ware, which utilizes the chemical reaction of smoke and glaze to produce complex colorations to coiling. However, one style gives a piece a distinct air of elegance, and that's etching.
Etched pottery incorporates the process of painting a piece with banded layers. Once the paint dries, artists may then carve intricate designs and symbols into their pottery. This technique gives the images one of the most detailed and well-defined looks that can be produced on clay.
Taking the process of etching pottery to a new height, Native American artists often incorporate elements of their culture and beliefs into these designs for a truly breathtaking result.
NativeAmericanJewelry.com, a purveyor of handmade Native American art and jewelry has launched a new release of etched pottery that is the perfect complement for any home this summer. The spokesman of the company, Steven Onida, stated, "Especially in Navajo culture, etched pottery can represent anything a simple landscape to ceremonial prayers. That's why these pieces are truly for anyone that wants to embrace Native American culture in their own homes."
The new collection of etched pottery features symbols like the Hummingbird, which often translates to having a swift and playful nature, just like the animal itself. Having these symbols in a person's home or being worn of their person is believed to bring these favorable traits right to the owner's doorstep.
Onida and his team have met with the prominent Native American artists in the Southwest region that they represent to bring this new collection to the general public.
The team at NativeAmericanJewelry.com believes their collection has a symbol or pattern to match the personality of any household, from the whimsical figure Kokopelli to the simple elegance of a traditional Native pattern that is sure to mesmerize guests.
NativeAmericanJewelry.com is proud to support the accomplished artists they represent and are confident that this new collection will help immerse people into Native American culture, one handmade piece at a time.