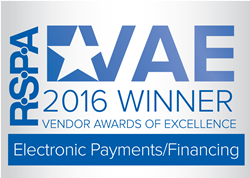 "This honor reflects the commitment to, and value of the partnerships we have with the integrated point of sale ecosystem," Matt Taylor, group president integrated payments, Vantiv
CINCINNATI, OHIO (PRWEB) August 08, 2016
Vantiv Integrated Payments, a division of Vantiv (NYSE: VNTV), and a provider of payments technology and services for small and medium-sized businesses (SMBs), announced that it had been awarded the Vendor Award of Excellence in Electronic Payments at the Retail Solutions Providers Association (RSPA) RetailNOW trade show, held July 31 – August 3 in Grapevine, TX.
"We are humbled and grateful to our partners who voted for us for this award. It is the eighth consecutive year we have won – first as Mercury Payment Systems and now as Vantiv Integrated Payments," said Matt Taylor, group president of integrated payments and emerging channels at Vantiv. "This honor reflects the commitment to, and value of the partnerships we have with the integrated point of sale ecosystem of software developers and resellers."
At RetailNow Vantiv demonstrated Vantiv O.N.E., One Network Experience, designed to provide software developers a best-in-class destination for integrating payments into their applications for mobile, in-store and online processing. Vantiv O.N.E. is combining Vantiv's leadership in integrated payments and industry leading scale of its processing platform, to enable software developers to get their applications to market faster, make compliance and security easier, and help fuel innovation in the increasingly complex market for omni-channel commerce solutions for merchants of all sizes.
Also in the booth, Vantiv launched its enhanced partner program, Vantiv Advantage. The Vantiv Advantage program includes financial rewards, value-added resources and product support to help fuel the growth of the company's partners across all of its channels, large and small.
This year's RetailNow was one of the largest ever with more than 2,000 participants. Awards are given out in five categories and decided by the membership, which includes resellers, distributors, hardware manufacturers, software developers, consultants and service providers who bring retail technology solutions to the marketplace. For more than 60 years, RSPA has promoted the growth and success of stakeholders and businesses whose work touches the Point of Sale technology ecosystem by providing essential knowledge and networking opportunities.
ABOUT VANTIV
Vantiv Inc. (NYSE: VNTV) is a leading payment processor differentiated by an integrated technology platform. Vantiv offers a comprehensive suite of traditional and innovative payment processing and technology solutions to merchants and financial institutions of all sizes, enabling them to address their payment processing needs through a single provider. We build strong relationships with our customers, helping them become more efficient, more secure and more successful. Vantiv is the second largest merchant acquirer and the largest PIN debit acquirer based on number of transactions in the U.S. The company's growth strategy includes expanding further into high-growth channels and verticals, including integrated payments, eCommerce, and merchant bank. Visit us at http://www.vantiv.com, or follow us on Twitter, LinkedIn, and YouTube.
© 2016 Vantiv, LLC. All Rights Reserved. All trademarks, service marks and trade names referenced herein are the property of their respective owners. Vantiv and other Vantiv products and services mentioned herein as well as their respective logos are registered trademarks or trademarks of Vantiv, LLC in the U.S. and other countries.