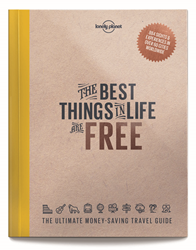 Great memories, a happier you and a grateful wallet.
Oakland, CA (PRWEB) August 10, 2016
Money is often the number one reason people give for not traveling – but Lonely Planet shows that it's possible to explore the world on any kind of budget in a new book, The Best Thing in Life are Free.
In The Best Things in Life are Free: The Ultimate Money-Saving Travel Guide (Lonely Planet / $22.99 / August 9, 2016), the travel experts at Lonely Planet collected the most priceless experiences they've discovered from over 40 years of on-the-ground research into one essential budget travel resource. Packed with money-saving tips, tricks and travel ideas, The Best Things in Life are Free (http://www.lonelyplanet.com/free) features 884 free (or almost free) sights and experiences in 60 major cities around the world from Boston to Bangkok.
Looking for a free yoga class in Dubai, or an outdoor concert in San Francisco? How about a movie night in New Orleans, or an open-air market in Marrakesh? From public parks, museums and free exercise classes to the best sunset spots, cheap food and other affordable experiences, The Best Things in Life are Free is the key to experiencing more of the world without breaking the bank.
The book also includes 17 themed lists:
Africa: Wildest experiences | Safari without the big bucks
Asia: Best sunsets without the price tag | Best cheap gourmet grub
Europe: Best national parks | Best wild swimming | Best free museums and galleries | Best city walking tours | Stinge Henge: Best free neolithic sites | Best tours by public transport
North America: Top 10 free-wheelin' all-American adventures | Best free movie nights | Top 10 free-range adventures in America's national parks | Free spectator sports in the USA
Oceania: Australia & New Zealand's best free walks
South America: Wine tasting on a shoestring | How to party at Carnival in Rio
The Best Things in Life are Free will leave readers inspired to see more of the world and, according to Lonely Planet's budget travel expert Tom Hall in the book's introduction, lead to "great memories, a happier you and a grateful wallet." After all, life changing experiences don't have to come with a huge price tag.