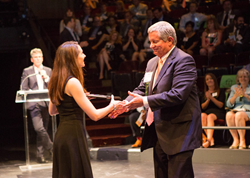 "We are so excited to have been recognized by the Washington Business Journal again this year"
Fairfax, VA (PRWEB) August 07, 2016
A prominent Fairfax, Virginia certified public accounting firm, Burdette Smith & Bish LLC is proud to announce they have been named one of the Washington Business Journal's "Best Places to Work" in the greater Washington DC metropolitan area for the second year in a row.
"We are so excited to have been recognized by the Washington Business Journal again this year," said Tom Burdette, who accepted the award for the firm. "It's the accountants and our support staff, and also the clients we serve who truly make Burdette, Smith & Bish LLC the best place to work. I feel very fortunate to be surrounded by such talented, hard-working, collaborative professionals."
The Washington Business Journal's "Best Places to Work" honors the area's leading employers that go above and beyond the norm to foster an enjoyable and meaningful work environment for their employees. Companies are judged on the results of an employee survey analyzed by Quantum Market Research. The survey evaluates:

Team effectiveness
Retention
Employee alignment with company goals
Trust with co-workers
Individual contribution
Manager effectiveness
Trust in senior leaders
Feeling valued
Work engagement
People practices
All "Best Places to Work" honorees were recognized at a Best Places to Work Awards event held on Thursday, June 9 2016 at the Arena Stage in Washington DC.
About Burdette Smith & Bish LLC
Burdette Smith & Bish LLC (BSB) is a premier certified public accounting firm serving the Washington DC Metro Area. For over 35 years we have been providing accounting, financial reporting, auditing and tax services to our clients. Our proactive approach, partner accessibility, and professionalism set us apart. We are NOT your average CPA firm. With our team of over 40 professionals, we have the talent and ability to address all accounting and tax issues, and provide the personal attention our clients need. For more information visit http://www.bsbllc.com.