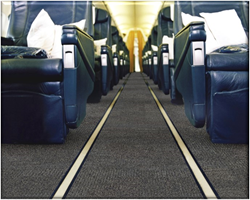 "The look is wonderful and it performs much better than our prior carpet."
Jacksonville, FL (PRWEB) August 16, 2016
SkyPaxxx Interior Repairs is proud to announce that Sky-Tiles now has customers on four continents through 12 aircraft variants and five aircraft manufacturers. The sustainable and long-lasting Sky-Tiles system allows for easy installation and fewer parts, making installation and maintenance processes quick and easy.
"The lightning pace of adoption of Sky-Tiles across the world and various aircraft types is truly exciting," says Rick Lockhart, president of SkyPaxxx. "It is a strong endorsement of the ability of Sky-Tiles to enhance the interior of any aircraft while saving operators time and money with an environmentally-friendly product."
Sky-Tiles are proven to be the most efficient, intelligent, advanced, and sustainable aircraft carpet ever made. Sky-Tiles require no serging, have a significantly longer in-service life, reduce installation times, allow for selective replacement, are guaranteed not to shrink or stretch, and are 100% recyclable, making the system one of the most eco-friendly processes in aviation today. The design and dimensions of the Sky-Tiles carpeting system also allows for quick placement and production, cutting installation times in half.
"Overall maintenance is easier, quicker to resolve. The look is wonderful and it performs much better than our prior carpet," says one Sky-Tiles customer.
About SkyPaxxx:
SkyPaxxx Interior Repairs is a FAA/EASA approved repair station specializing in aircraft seating and interiors. As a Customer First, Customer Focused Company, SkyPaxxx has an unmatched reputation for quality, delivery, and out-of-the-box thinking designed to improve every operator's interior. With services and specialists in every part of the aircraft cabin from floor to ceiling, SkyPaxxx has the capability, experience, and dedication for every aircraft, every operator, every size, every time.