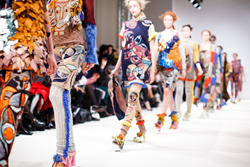 We want to encourage people to attend this August to learn how Native American art is shaping the fashion industry as a whole.
(PRWEB) August 11, 2016
New to the show, in both years and contemporary styles, the Haute Couture Fashion Show in Sante Fe is celebrating its third annual event. This year marks a particularly special occasion as the center of this fashion show seems to emphasize the original and authentic work of passionate Native American designers in the contemporary fashion industry.
Trailblazers, artists, and icons have been a few words used to describe the fashion designers that are to be featured in this upcoming show. Among the list of popular names of Native designers are: Sho Sho Esquiro, who uses recycled leather and organic material in his designs, and Navajo designer Orlando Dugi, who creates captivating pieces inspired by his heritage and contour perfectly to a person's physique.
TurquoiseJewelry.com, a long-time supporter of Native American art and jewelry, wants to spread awareness of the event and encourages people to attend and learn more about Native culture in the process. The spokesman of the company, Jack Burch, stated,
"Last year's event was something to behold. Jamie Okuma and Sho Sho Esquiro graced us with their work last year and I think the lineup will be more moving this year. Okuma's new line of beaded boots with traditional Native symbolism redefined how the culture can be utilized as an art form. We want to encourage people to attend this August to learn how Native American art is shaping the fashion industry as a whole. By incorporating contemporary designs, we've seen a revitalization of Native culture in the mainstream, which is great for the community as a whole."
Burch and his team have worked with Native American artists for a number of years, knowing the struggle of bringing authentic, handmade, Native art to the general public. The pieces that inspire this company to continue forming strong bonds with the Native American community seems to be what sets TurquoiseJewelry.com apart from their competition.
The team at TurquoiseJewelry.com concluded with, "We hope to see more people there this year. We were fortunate enough to go last year and had a great time taking in the new styles. Anyone looking to come with some authentic Native American jewelry, to the Santa Fe Community Convention Center this year, we have provided a new collection of special discount pieces of beautiful inlay and turquoise jewelry pieces designed by the artists that we represent on a daily basis."
People interested in finding more authentic Native American jewelry, can do so at the TurquoiseJewelry.com's main page as well.