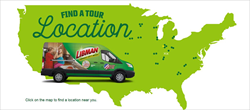 Arcola, Ill. (PRWEB) August 07, 2016
This summer the Libman Company's "Embrace Life's Messes" tour is traveling to 109 retail locations in 14 cities, including Minneapolis and St. Paul on August 9 through 11. At the store visits in the Twin Cities, the company will give local consumers the opportunity to win Libman products and prizes in order to encourage them to embrace life's messes by letting Libman help them to do the work.
The Libman Company, a leading U.S. manufacturer of household and commercial cleaning products, is celebrating its 120th anniversary this year with the "Embrace Life's Messes" 8-week tour and a special sweepstakes that work together to relay the message that consumers don't need to worry about everyday cleaning messes as long as there's a Libman product on hand to help them out.
The tour is comprised of a team of Libman brand ambassadors who not only stop at retail locations to share tips and give away Libman prizes, but also make product donations to various charities including local animal shelters and American Cancer Society Hope Lodges, the latter which provide no-cost lodging and support to cancer patients and their families who must travel away from home to receive treatment.
On August 9 through 11, the tour will stop at 12 stores in the Twin Cities over the course of three days. They will spend 90 minutes at each store to demonstrate a few of Libman's 350 cleaning products and offer customers the chance to spin a wheel to win various Libman prizes. For the schedule of dates, times and locations of store visits in Minneapolis and St. Paul, visit http://www.embracelifesmesses.com.
In tandem with the tour, there's an opportunity for those who can't make it to the cities and store visits to win Libman products or a cash grand prize. The "Embrace Life's Messes" sweepstakes is currently running until September 17 and will see Libman give away 120 product prize packages worth $120 each and a grand prize of $1,200. To enter the sweepstakes, visit http://www.embracelifesmesses.com.
The Embrace Life's Messes" tour began on June 23 in Louisville, Ky., and comes to an end in Chicago on August 18. The tour is documented with blog posts, photos and videos of the team's adventures on social media sites and on the "Embrace Life's Messes" website.
About The Libman Company
The Libman Company is a family-owned company that has been making quality cleaning tools since 1896. The company manufactures products from brooms and mops to more specialized tools for kitchen and bathroom cleaning and industrial uses. Libman proudly manufactures most of their products in the United States, including the company's well-known Wonder® Mop. For more information about the Libman Company, please visit http://www.libman.com.
# # #