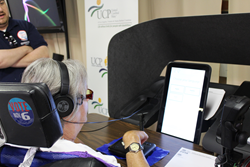 Culver City, CA (PRWEB) August 06, 2016
On August 5, 2016, one day before the 51st anniversary of the Voting Rights Act that solidified voting rights as a civil right available to all Americans, self-advocates with developmental disabilities will continue their pursuit of their civil right to cast a ballot in the upcoming elections.
For the past three years, self-advocates at the United Cerebral Palsy of Los Angeles, Ventura and Santa Barbara Counties (UCPLA) Washington Place Adult Day Program have been providing input to the Los Angeles County Registrar on accessible voting options for individuals with differing abilities. As part of their ongoing self-advocacy training and workshop programs, participants at UCPLA's Washington Place have engaged in numerous meetings and feedback sessions with LA County Registrar Recorder Dean Logan, his staff and members of IDEO, the design team tasked with designing an accessible prototype for the new LA County voting system. Research and development of this universal voting system has been underway since 2004.
With election season officially in full swing and voting day a mere three months away, UCPLA's self-advocates have now moved into the testing phase with the prototypes they have been crucially involved in helping to design. On Friday, Dean Logan and his team brought two of the newly designed accessible voting prototypes and sample ballots to UCPLA's Washington Place Adult Day Program to help gather real-time feedback on the effectiveness of these voting measures.
For Logan, this project has been about not only accessibility, but also the extension of voting rights and civic experience to community members of all abilities. "In the public sector we tend to measure our success by conforming to regulations," Logan said. "For example, we can design to conform to a legal mandate for accessibility—things like the height and width of voting equipment to accommodate a wheelchair. What we learned from this project is that in order to do this right, you have to go beyond simply measuring conformance with regulations…It's about also finding out, does that conformance also meet with the intrinsic values the voter places on the experience?"
Ronald S. Cohen, President and Chief Executive Officer of UCPLA agreed that this project places a vital spotlight on voting as a civil right, stating: "This is a unique opportunity for our clients and self-advocates to really make their votes count in this election. As disability rights and inclusion begin to get the attention they deserve in this election cycle, our clients are poised to make sure that they not only cast their vote, but ensure that all members of our community have access to this fundamental right."
United Cerebral Palsy of Los Angeles, Ventura and Santa Barbara Counties (UCPLA) operates over 40 program sites throughout five counties in Southern California and has extended its mission to serve all people with developmental disabilities. These programs include adult day activity centers, children's programs, community living support services, group homes and independent living apartments. UCPLA provides services to over 1,100 children and adults with developmental disabilities daily. For more information on UCPLA visit our website at: http://www.ucpla.org or Facebook page at facebook.com/ucpla.
###