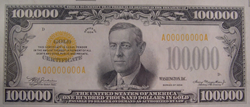 Money is history you can hold in your hands.
Anaheim, California (PRWEB) August 08, 2016
The public can see over $1 billion of historic rare coins and colorful paper money, including a display of $100,000 bills and Gold Rush-era currency, at the family-friendly 2016 World's Fair of Money® (http://www.WorldsFairOfMoney.com) in the Anaheim Convention Center, August 9 – 13, 2016. And it won't cost a dime to see a billion bucks on the final day of the show, Free Family Day on Saturday, August 13.
Many of the 650 dealers attending the show will provide free, informal appraisals of the public's old coins and paper money. The five-day event is sponsored by the nonprofit American Numismatic Association, a 25,000-member congressionally chartered educational organization.
"This will be a once-in-a-lifetime opportunity for many Southern California residents to see in person more than $1 billion of extraordinary numismatic national treasures including one of the five known 1913 Liberty Head nickels valued at $3 million and the impressive U.S. Treasury Department Bureau of Engraving and Printing 'Billion Dollar Display' that includes $100,000 bills," said American Numismatic Association President Jeff Garrett.
"The United States Mint will be displaying the rare, experimental Lincoln cent made of aluminum in 1974 at the Denver Mint. This is the coin's first public appearance since it was returned to the Treasury Department earlier this year," Garrett said.
Another eye-opening exhibit will be the first public display of an $8 million dollar set of U.S. $20 denomination "Double Eagle" gold coins struck between 1850 and 1866. Many of the 46 coins in this set were made from California Gold Rush ore, and a dozen were recovered from famous shipwrecks including the 1857 sinking of the fabled "ship of gold," the SS Central America. This exhibit is courtesy of Monaco Rare Coins of Newport Beach, California and an anonymous collector who owns the remarkable coins.
"Other exhibits include examples of ancient Greek coins commemorating the early Olympic games of that era; a fabled 1804-dated silver dollar known as 'The King of United States coins' and valued at $4 million; and vintage 19th century California bank notes," said Douglas Mudd, Curator of the American Numismatic Association Money Museum in Colorado. The museum is bringing some of its items for display in Anaheim.
"Money is history you can hold in your hands. Every coin and every piece of paper money ever made has a story to tell about people, places or events," said ANA President Garrett. "The public can see, buy or sell items ranging in value from less than a dollar to more than a million dollars each."
Dealers from around the world will be buying and selling rare coins, paper money and gold and silver during the show. There also will be educational seminars and a children's treasure trivia game.
Informative, introductory half-hour programs on how to begin collecting will be offered to the public at 10 am and 2 pm on Wednesday, Thursday and Friday, August 10, 11 and 12. There will be a two-hour "Coin Collecting Basics" class starting at noon on Saturday, August 13.
Santa Ana-based Stack's Bowers Galleries (http://www.stacksbowers.com) and Dallas-based Heritage Auctions (http://www.ha.com) will conduct public auctions of rare U.S. and world coins and paper money at the show and online.
The World's Fair of Money will be in Hall D of the Anaheim Convention Center, 800 West Katella Ave., in Anaheim. Public hours are Tuesday through Friday, August 9 - 12, 2016 from 10 am to 5:30 pm, and Saturday, August 13, from 10 am to 4 pm.
General admission will be free to everyone on Saturday, August 13. Other days admission will be $8 for adults and children 12 and under will be admitted free. A $2 discount coupon is available online at http://www.WorldsFairOfMoney.com.
The show is co-hosted by the Numismatic Association of Southern California and the Long Beach Coin Club. For additional information, visit the American Numismatic Association 2016 World's Fair of Money website, http://www.WorldsFairOfMoney.com, or call (719) 482-9867.