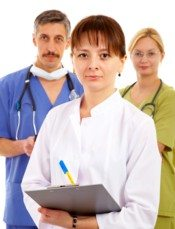 These three cases suggest that Crohn's disease with transmural inflammation may also be a precursor [to mesothelioma]."
Raleigh, NC (PRWEB) August 07, 2016
Scientists at Duke combed the records of 3,800 mesothelioma patients to find those who had both peritoneal mesothelioma and inflammatory bowel disease. Their findings are the subject of a newly published paper. Surviving Mesothelioma has just posted an article on the study. Click here to read it now.
Of the 3,800 mesothelioma patients studied, 3 were found to meet the criteria. All three patients had been diagnosed with Crohn's disease as well as the asbestos cancer, but only one of the patients had any known exposure to asbestos.
"Chronic inflammation has been associated with the development of malignant mesothelioma in rare instances and these three cases suggest that Crohn's disease with transmural inflammation may also be a precursor," writes Kelly J Butnor, MD, a professor in Duke's Department of Pathology & Laboratory Medicine.
The new article, published in the Journal of Clinical Pathology, says it is still too early to tell how Crohn's-related inflammation might give rise to mesothelioma.
"Although peritoneal mesothelioma is extremely rare and notoriously difficult to diagnose, inflammatory bowel diseases, including Crohn's, affect more than 1.5 million people in the US," says Alex Strauss, Managing Editor of Surviving Mesothelioma. "We believe a possible link between theses conditions is something these patients and their doctors should be aware of."
For more on the new Duke study, including how inflammation plays a role in both Crohn's and mesothelioma, see Mesothelioma and Crohn's Disease: Is There a Link? Now available on the Surviving Mesothelioma website.
Butnor, KJ, et al, "Malignant peritoneal mesothelioma and Crohn disease", August 2, 2016, Journal of Clinical Pathology, http://www.ncbi.nlm.nih.gov/pubmed/27484913
For nearly ten years, Surviving Mesothelioma has brought readers the most important and ground-breaking news on the causes, diagnosis and treatment of mesothelioma. All Surviving Mesothelioma news is gathered and reported directly from the peer-reviewed medical literature. Written for patients and their loved ones, Surviving Mesothelioma news helps families make more informed decisions.