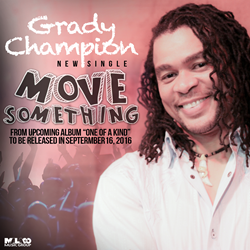 I just want to share my Mississippi Blues music with the world...
Los Angeles, CA (PRWEB) August 07, 2016
The Ouuu La, La, La is back with other blazing single heating up the airwaves! Grammy Award winning songwriter, singer, musician Grady Champion debuts "Move Something", released this Summer, on the legendary Malaco Music Group label and distribution. There is strong support for the artist in music trade giant All Access.com. The song is currently on the "Cool New Music Chart" and "The Taking Off Report". The single is a prelude to the "One Of A Kind" full-length CD due out this Fall. A music video, the "One Of A Kind" Tour and Grammy consideration are creating a perfect storm for the artist in pushing his BDS, Mediabase spins, on Urban AC radio stations, Music Choice and SiriusXM.
"Move Something" the single, has a bluesy, yet contemporary R&B, stylized feel to the music track; coupled with Champion's commanding gritty-soulful vocal arrangements. Its feel good, sing-along lament, orders the crowd to come out and have a good time. The song's nightlife music video (available on Grady's Official YouTube Channel) was shot in Vicksburg, MS, at the Ameristar Casino, by Mississippi film Director, Harold Lyles. Layered, edit cuts move the video's edgy feel that complements the song's danceable, upbeat construct.
The singer and label are also announcing that Grady has made his submissions and is being considered for the 59 Annual Grammy Awards, in multiple categories. Grady Champion's "One Of A Kind Tour" is now well in swing across the U.S., with 180 show dates scheduled that include 30 days internationally, starting November 2016 and runs through December 2016. Grady had this to say, "I just want to share my Mississippi Blues with the world. I love to entertain, perform, sing, and share the good feelings Blues brings to everyone. Blues is a feeling rooted deep in the soul and I try to express my passion through music."
About Grady Champion:
Native Canton, Mississippi entertainer, rhythm & blues singer, musician Grady Champion has been captivating audiences for the better part of two decades. He is an honored Grammy Award winning songwriter. Champion's song, co-written with Kevin Bowe, entitled "Trust Yourself" was included on Etta James' Let's Roll. It won a Grammy Award for Best Contemporary Blues Album in 2003 and also a Blues Music Award as the 'Soul/Blues Album of the Year' from the Blues Foundation in 2004. The guitarist, harpist, songwriter, executive producer, in 2013 signed with Malaco Records. Champion is the barer of the torch for keeping authentic Blues and Soul music alive. To purchase CD click here "One Of A Kind". Drop in on Grady by joining his social media YouTube, Facebook & Twitter.
For booking Grady Champion contact: Mitra Bayati 601.202.2384 or email booking(at)ditalentagency(dot)com